Get instant keyword suggestions with Alphabet Soup X beta from Wealthy Affiliate. What exactly is Alphabet Soup X? It is Wealthy Affiliate's newest keyword tool for researching niches, researching keywords, re-searching new ideas, and seeing what's popular in the Google search engine. It's currently in Beta mode at the moment but the tool is available to a select few. And those with the privilege of using, it is blown away. No download to your computer is required!
The Alphabet Soup X keyword research tool is not just any keyword tool but rather a beast on steroids.
For a few years, the concept or the use of this tool was always in Jaaxy. Most of us took full advantage when performing keyword research for our websites and our results were broad enough so we could dig deep into a market without leaving the Jaaxy keyword tool. But there was one problem we all faced, it was cumbersome and not well laid out.
That all changed last year when Kyle announced the stand-alone creation of the tool. He gave us a demonstration of how it works and we were all excited about what we saw. I don't know of any other affiliate marketing training program that has this except Google. It acts like the Google Instant search!
The difference here is that Alphabet soup X organizes your search results using the letters of the alphabet. You also don't get just any keywords. It is programmed to deliver the highest searched long tail keyword phrases in Google. Users will be able to type a seed word and press the "Make It Rain" button.

When you do that, it really rains keywords from A to Z at 14 words for every letter grouped. You can pick through the list and deep deeper into each phase. You also have the option of selecting one, copying all to Clipboard, or Downloading to a CSV folder.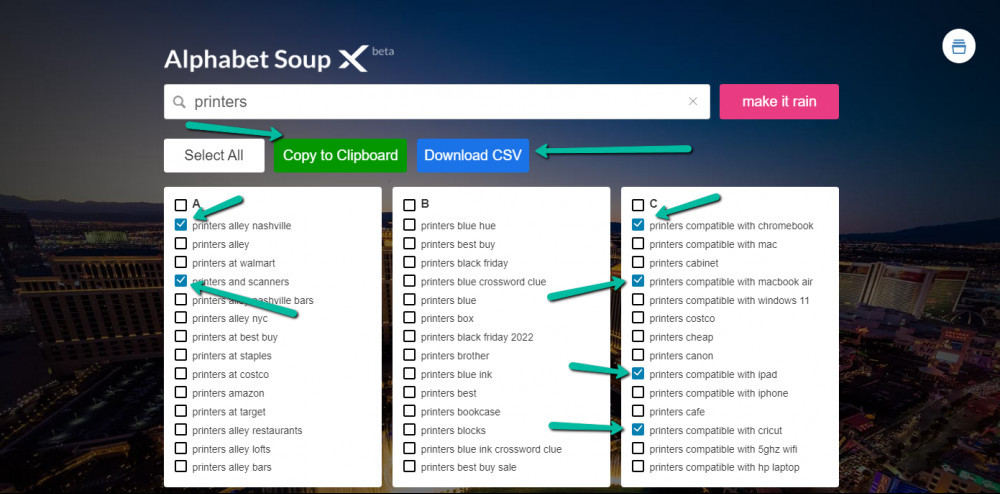 As you can see above, my selection of a few keywords. These I am able to download instantly. Remember the results are the highest searched phrases in Google engine. We prefer long tail keywords and should have buyer intent-based. Traditionally, people who type these words are further along in the buying cycle.
You'll make a sale much faster when you use longer and more specific search terms.
Selecting All Keywords Results from Alphabet Soup
To do this, you'll simply click the "select all" button and then choose how your download option.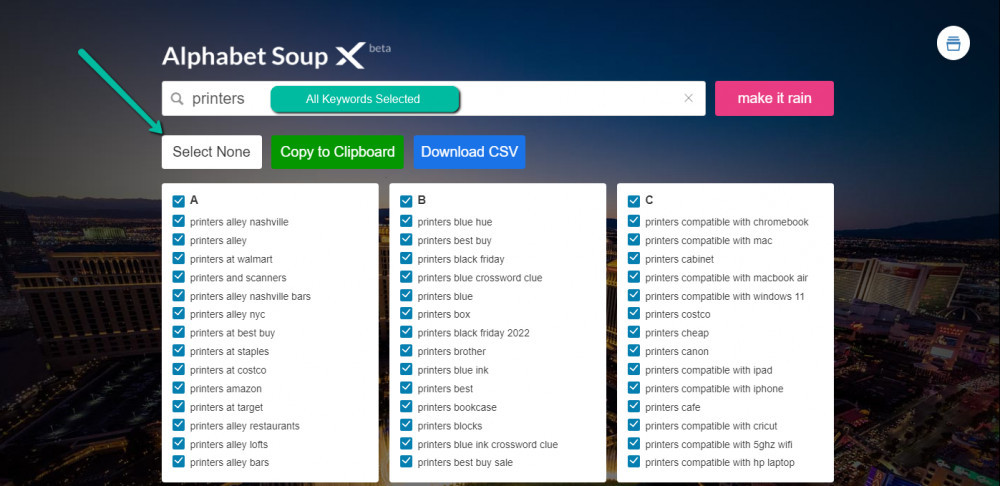 At this stage, you'll have many keywords to go through so choose them wisely. I tend to not download all keywords like near me unless I have a local business I would leave alone. However, that kind of keyword phrase is suitable for local restaurants, personal injury lawyers in jersey city, etc.
Could you see yourself using Alphabet Soup X? I believe so. There is a lot to gain from the results and ideas. You can expand effortlessly and improve keyword research time.
Who Will Benefit from Alphabet Soup X Beta?
If you're a marketer, this should be in your marketing tool kit. If you're just starting out or intermediate, this should be a go-to for doing research. The scope of what's available is limitless and best of all it is completely free to use.
For a select free inside of Wealthy Affiliate, Premium Plus Members have unlimited access to Alphabet Soup X beta. If you're already a wealthy affiliate premium member and you are on the fence about upgrading to premium plus, I say take the leap and experience it.
Bloggers, content marketers, internet marketers, PPC (Pay Per Click) advertisers, and Search Engine marketers will have enough keyword ideas to ramp up their marketing for months with one click.
Keywords are the lifeblood of the online business and without highly profitable long-tail keywords there's little chance that the business will survive. Also, they're easier to get a high ranking in the SERPs.
Would You Like to Start Using the Wealthy Affiliates New Keyword Tool?
Right now, there is no obligation for 7-day access to become a 1st-time online business owner of the Wealthy Affiliate marketing training program. If you have a business already but it needs growth and sales, check them out to learn what's available for you and also how to grow your business long term.
This affiliate marketing training website is also for complete beginners. Many who join the program are newbies. They are new to this whole affiliate meeting thing and some are retired teachers, nurses, bus drivers, students, retired judges, and policemen from all over the world.
I believe you'll fit right in on your very first day.
You might already have an idea of what your business is going to be about. Whatever it is, you'll know if it's the right one. WA training is top-notch and everyone is trained to become successful.
Remember that to get access to Alphabet Soup X beta, you must become a Premium Plus+ Member.
The Tool is Not Perfect and Have Limitations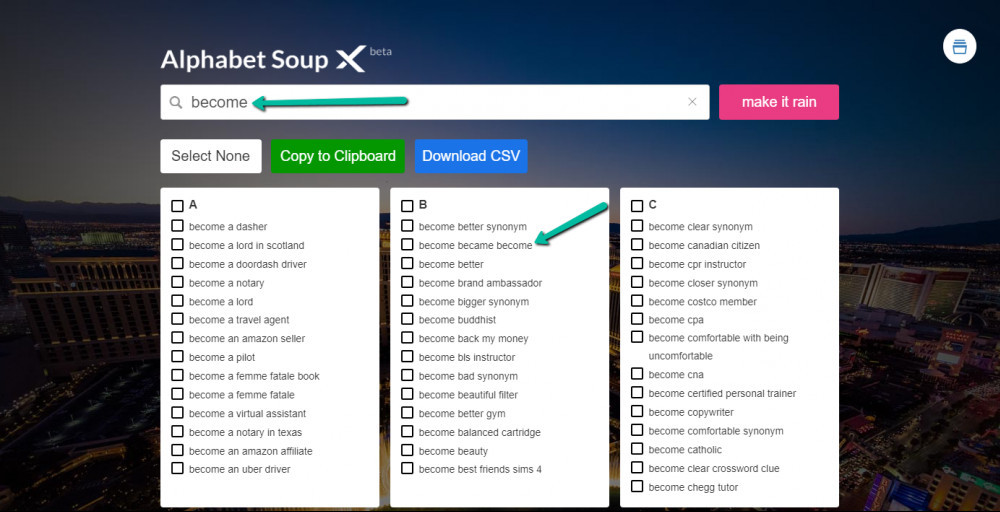 There is no perfect keyword tool and Alphabet SoupX is no different. The data is pulled from Google's billions of search engine quires and at times you will see stuff we can't possibly use. Case in point, "Become became become". That's a useless phase for us. It is best to go through and pick out the relevant terms for your immediate business or planned ones.
The possibilities are endless and available to all Wealthy Affiliate Premium Plus+ members. I would like you to watch the demonstration video below and let me know your thoughts in the comments section below.
====> Watch the Alphabet Soup X demo video here