There are many ways to make money online these days and I know you want to know how it is done. You want honesty. You want the secrets, tips, and tricks that will fast track your path to earning extra money from home. In this blog post, I am going to try my best to show you how I make money on the internet. The easiest way to start making money from home is to promote somebody else's product or service. This is known as Affiliate Marketing. This is by far the simplest. It's not the easiest but you can start with little or no money at all!
What Is Affiliate Marketing anyway?
---
The diagram or infographic offers the concept of what affiliate marketing is.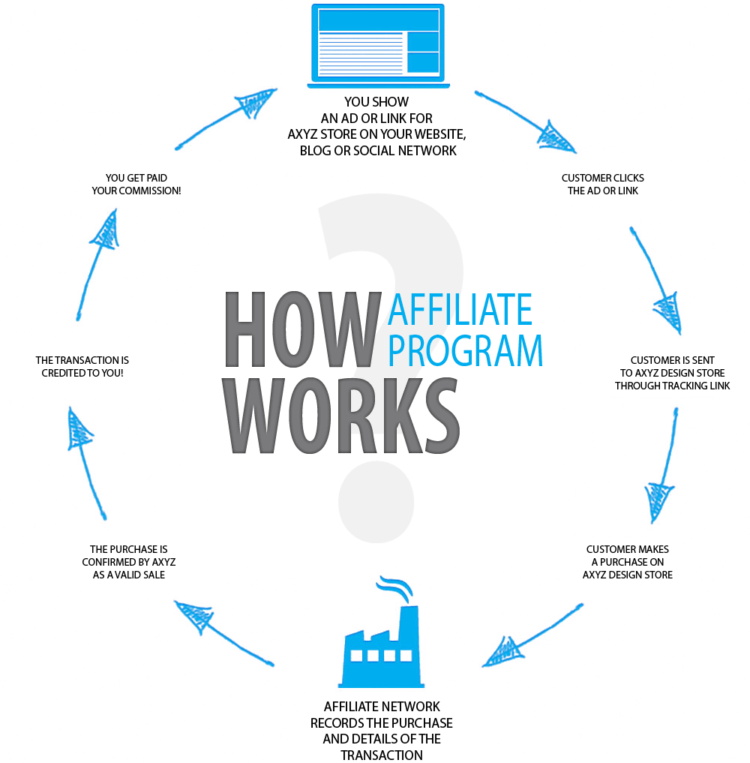 I will then outline for you the steps of how to make money as a beginner. I will not mislead you and tell you that you can make money online fast or overnight without lifting a finger because that doesn't exist.
What I can promise you is a path that I've used before and I am still using to make money at home from scratch. This strategy has worked for me and thousands of moms, dads, students, retail workers, fast food workers, real business owners retirees, truck drivers, taxi drivers, and more worldwide. Many of my friends make a living from the internet using this exact business model.
Some do it parttime and some do it full time. In the early stages, you are going to spend many hours building this business. The amount of time that you will devote to your business will dictate the success of your business. This online venture will grow and the knowledge and experience you gain will allow you to launch many more with only the sky be your limit.
Most if not all online businesses take months and some take years to mature. But one thing is certain, It all depends on the amount of effort you are willing to dedicate to it and how serious you are about your business. It's not a hobby. It is your business.
Now it's your turn to make money online. Are you ready? Let's go!?
Find a Market and Research it First
---
Before you do anything, I mean anything, you must find a market and research it. What is a market? I am glad you ask. I will not give you the dictionary version of what a market is I am going to explain it to you.
A market is where you find a group of products selling that solves a problem and caters to a group of people or things. Let's look at Health and Fitness. This is an example of a market. In this market, we will find all kinds of products. You will find weight loss products, treadmill, supplements, weight lifting, muscle building, abs defining and so on.
Can you see the different products in this market? Great. Now, in the market there are segments and these are what I've just outlined. Another word for these is Niche specific. You will only market to one segment of this market and just one only. If your selection is lost weight using a diet plan then you do just that.
So weight-loss diets plans, like Nutrisystem, would be your target. The reason you should target only a specific niche in a market is to avoid wasted time and money. You must also do this to save yourself the disappointment of building a business where there are no need, no customers and no problem to solve.
How do You Research This Market and Select the Niche?
---
In this part of our research, we are going to use Google, Bing, Yahoo, and Amazon. These three will give us what we need to make a decision. Our first step is to visit Google. When you reach google type in the market you are considering. In my example, I selected Health and Fitness.
What do you think I am looking for here? Think about it. Look at the page and tell me what you see. If you say I see ads, you got it right. The presents of ads tell me that there is money in this market. If there are no ads at all, there is a strong possibility that no money is there to be made.
In this example, we can clearly see two ads. At this time, its time to look further into our research. Let's take a look at the footer or bottom of the Google Results. When we scroll down, we can see another ad. This is promising and there are signs of people talking about this. There are blogs, articles, websites, essays, tips, magazines. I am going to click on the magazine link and see what I find there.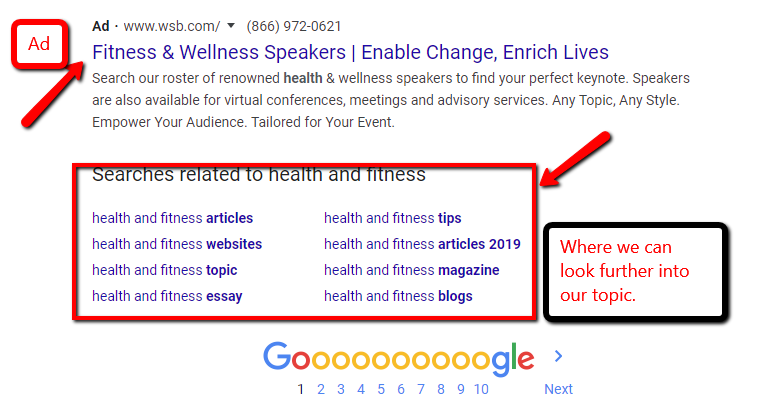 After clicking on the magazine link, I got a number of results, websites, on the topic. The first results seem interesting and so I clicked on it. The page opens up and reveals articles all that we are researching. A few crabs my attention and I have highlighted them for you below.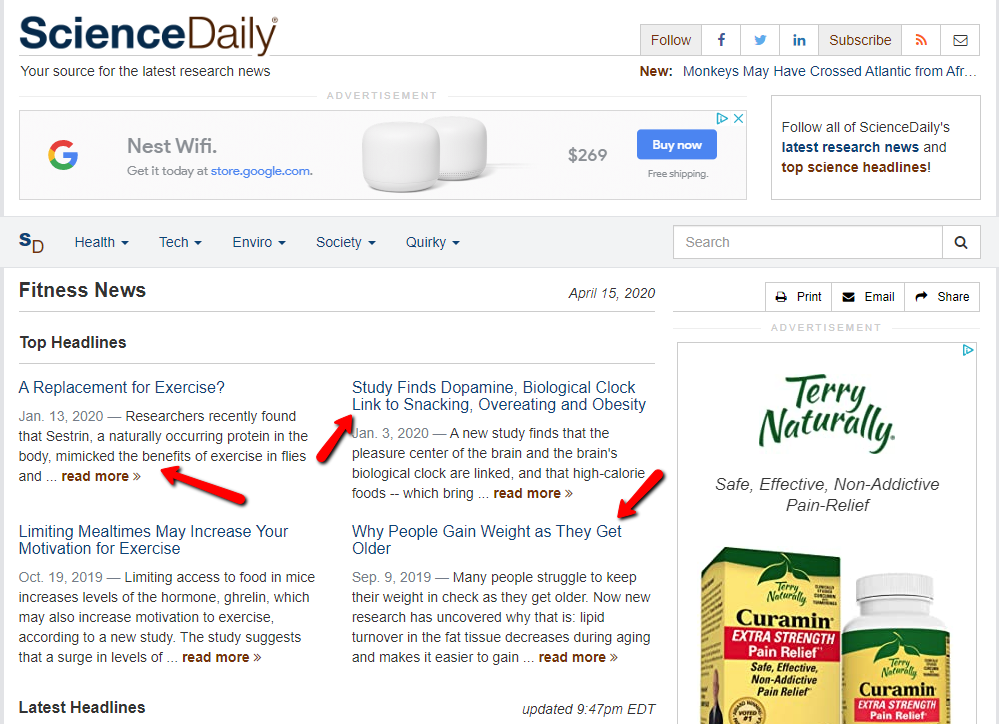 We can see overeating and obesity. We can also see people gaining weight or why people gain weight as they get older. and "limiting mealtimes may increase your motivation for exercises". All these are great for our research and they give us good ideas to research more.
From here you can look for people who are overeating and help them to stop overeating. The next word here is obesity. This is a problem and many people want to overcome this stigma. From this, we select a niche from here and do some digging.
But before that let's take a look at Amazon, Yahoo, and Bing.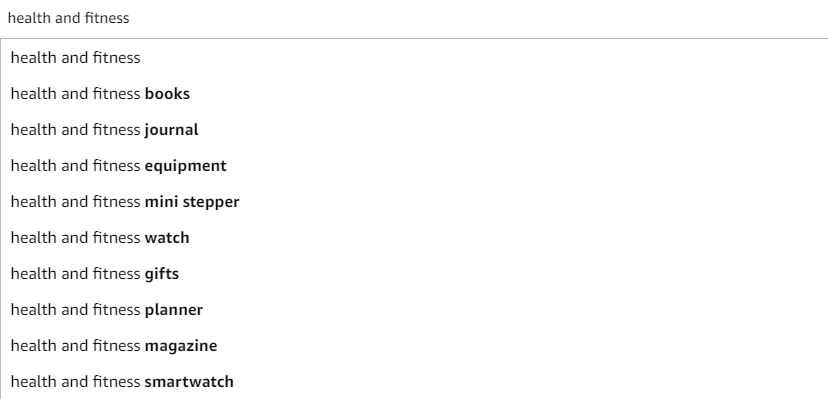 As you can see Amazon has given us ideas in this market with specific segments in the market. We can see books, equipment, watch, gifts, planners and magazine again.
When you see equipment, I am assuming you immediately think about exercise machines. Smartwatches or Fitbit could be another one and mini stepper. There are no programs here and so we will continue to dig for gold. What we want our products in your market that attracts lots of buyers and a good supply or companies and categories to satisfy the segment.
Let us take a look at "overeating". for a moment. Let's see if people are advertising on how to stop overeating. We are going to do this by typing our keyword into google and see if there are any ads for this particular word. Our word is "how to stop overeating".
After permoing the search, we get some results. They didnot appear where I ghoutht they would but after scrolling to the bottom of the results, three ads present.
Select a Niche From This Market
---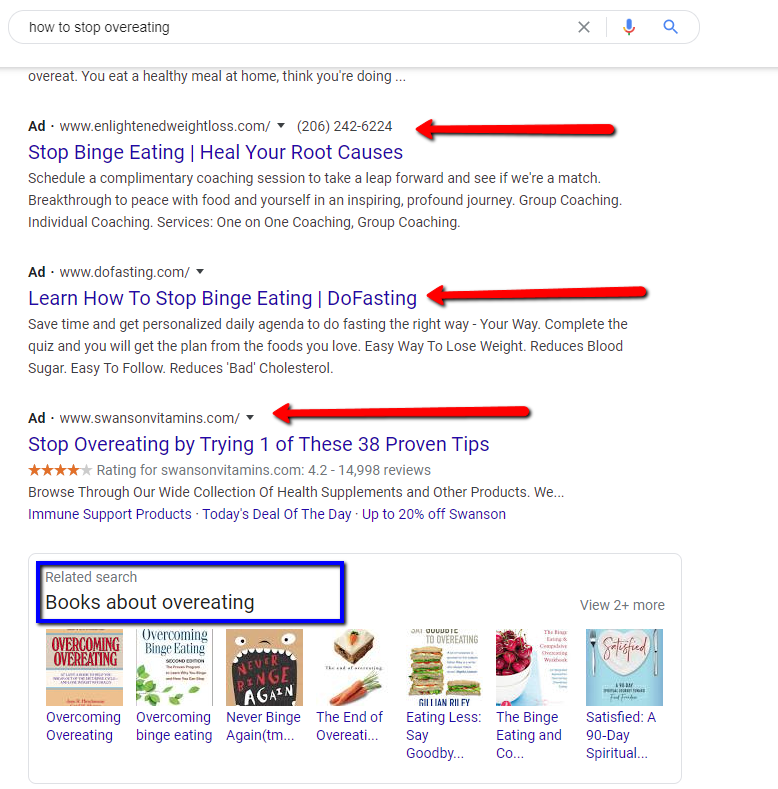 We have selected Overeating as our Niche and the ads prove that money is here to be made. I would also jump on Amazon to see what they have to offer on this topic.
After taking a look at Amazon, what they had to offer was not promising and a different niche selection is necessary. This is why it's so important to research before jumping the gun. The next selection will be fitness equipment.
Research Keywords in Your Chosen Niche
---
Keyword research is important and you want to do this very carefully. Our niche is fitness equipment. Amazon did provide some promising results and one of the ideas it gave us was "Fitness Equipment for Home".
The price point was over a hundred and it was one of Amazon's bestsellers. These are awsome signs and one that we will continue to ding into. Before we settle, let's do some keyword research to see what else we came find under the term Fitness Equipment.
My Keyword Tool of choice will be Jaaxy and Google Keyword Planner. There are others but Jaaxy and Google are my choices for doing research. Jaaxy gives us what's important for the search query. It gives us not only the search volume but also the difficulty and validity of the keywords. For this segment, Please watch the video below.
Did you enjoy the video? Great! I am happy you did. Now, lets continue…
Categorize Your Thoughts and Ideas
---
Another tactic to use is your brain. Yes, your brain! Categorize your thoughts and ideas on a piece of paper. Think about what you have bought in the last 7 days. Or even today. Did you buy anything online? Why did you buy it? You can use the same reason you bought it and put it into action. A lot of people could be feeling the same way and want the exact product you have just purchased.
You can also look around your house. A good place to start is your kitchen or bathroom. Whats new there? Is there a particular item you just love? We human beings tend to have the same emotions when it comes to products and services. It is even better when it is recommended by a friend or colleague.
In the online world, you could be that friend to that web searcher who is thinking about purchasing that product. Your website would be loaded with information about that particular product they are looking for and just from your content and recommendation they feel trust. Where there is trust, money is spent!
Layout your Site Structure, or Categories
---
In this part of the content our focus is going to be on setting up how our site should be when a visitor visit as well as how Google sees our website. You should plan out the site before you buy a domain or hosting. Look at this way…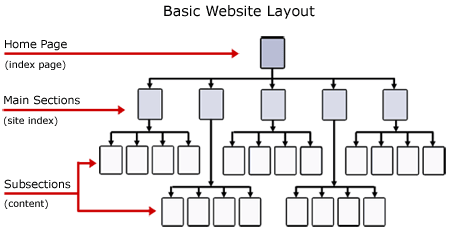 Before a house is built, a blueprint is produced. In this blueprint, the planning of where everything should be, foundation and main parts of the structure, are set in place. The furniture is not bought before the house and the paint is not put on until the entire building is finish.
This you must also apply to your online business. Plan out your website in a spreadsheet before going further. Think about the pages all website must-have. Where would you get a Privacy Policy, Terms and Conditions, Disclosure, FTC Affiliate Disclosure and so on?
You should also consider what should be posted and what are going to be pages. On pages, you would get to engage with your website visitors. They would use the "make a comment" section at the end of each blog post to ask questions or make suggestions. This also helps with your search rank. More engagement means your site is valuable because people are talking about it and linking to it.
Once Categories
Chose a Domain Name That's Memorable
---
This will be one of the biggest decision you will make. Your domain most be memorable and short. You are to try and avoid – dashes and numbers in your domain. When you are thinking about the domain, we have to remember our audience and market.
If you are struggling to come up with a domain name try namemesh. This website offers ideas based on the root keyword you enter.
Buy Domain: Buying a domain is as simple as buying a loaf of bread these days. All you need to do is head over to Namecheap and search for the domain you plan to register. Enter the name in the search field and click search.
The system will perform a search. If your domain is available, you can go ahead and register it. You can register it for 12 months or two years or three years. We suggest registering your domain for 12 months.
Buy Website Hosting Plan
---
What is this? You will need hosting for your website. Hosting is where your website content will live. You will pay per month or by the year to host one or unlimited websites depending on the hosting provider. Companies like Namecheap, Bluehost, Siteground, and Hostgator offers plans to host an unlimited number of websites.
The right hosting will make a difference. If you select the wrong hosting company, you run the risk of low standards and quality. The biggest is site up-time and security and site speed. A slow site can delay ranking and even cost your site higher rankings. If your site is slow, Google will not rank it to where it should be. So, choosing a good host is important.
Another factor is site security and you don't want to get this wrong. Most hosting providers make you buy site security seperate because they don't provide it. When you must do is add it or use a plugin to product your website.
I can remember losing all my site to hackers. That was horrible! Today, I host my sites at Wealthy Affiliate. They offer everything from make money online training, site hosting, site security, site speed boost, daily site backup, ssl security and much more. You get it all in one place.
Install WordPress on Your Server
---
One of the most exciting and nerve-racking feelings you will ever have is to install your own WordPress website on your own hosting server. If you know how to do this yourself, you will save around $300 dollars.
After you buy your domain either at Namecheap or HostGator, you must install your website onto this WebHost. The process can get difficult but overall it's a bit simple and technical. If you run into trouble, reach out to me or contact the hosting provider for further assistance.
There is a way to bypass all this in a flash! How do you do that Michael? Well let me tall you…
You see, Wealthy Affiliate has a website installation tool that lets you install your WordPress site in under 60 seconds. It is blazing fast and you not only get fast WordPress installation you get a ton of other crucial components to keep your website business up and running without problems.
Wealthy affiliate is one of the best, in fact, #1 with it comes to teaching beginners how to build a successful online business from scratch. They teach you everything there is to know about affiliate marketing from a-z. I recommend them because their strategies simply work.
Pick a Theme
Chosing a theme for your website. This could be tough because there are so many. However, the fastest way to decided is to know what your site is going to be about.
Themes are designed for a purpose. If your site is going to be about travel, type travel themes in the search field of your wordpress backend.
Install Plugins WordPress Plugins
---
Installing plugins in WordPress is simple and straight forward. To do this, you would simple head over to your plugin dashboard and click on the "add new plugin" link. Once that is done, begin to search for the plugin of your choice.
There are many so choose wisely. One way to determine if a plugin is worthy of getting instelled into your site is toe look at previous installed and reviews. Also, look at the last update of the plugin.
An old outdated plugin can be trouble for a site. If it hasn't got an update recently, skip it and install one that was recently updated by the author.
The author of your choice of theme may select some plugin that works well with it. In most cases, these are a set of default plugins will already be installed or pre-installed for you.
You could either activate them or ignore them all together. My choice of plugins for beginners are as follows.
PLUGIN CHOICE: All in One SEO or Yoast. Classic Editor and Elementor. WP Stats, and Kraken Image Optimizer. These are all that you would need for now. As your site grows, more should be added to enhance your WordPress website or blog.
Setup SSL
Most hosting companies offer free SSL certificate. Bluehost is one of those companies.
Sites today are not seen as truthworth without the SSL/https:// on their website. So having one only makes sense.
Add Articles and Reviews
Find Products to Monitized Site
Add More Articles
Share Site on Social Media
Determine Where You Going to Get Traffic From
Buy Traffic
Get Free Traffic
Youtube Traffic
Microsoft Advertising/Yahoo
Google
Media Buy Traffic
Think About Setting Up Lead Capture
Research Email Marketing Companies
Buy Email Marketing Software
Setup Email Form
Setup Email Sequence
Schedule Email Sequence
Build Relationship
Recommend Products and Services
Repeat Cycle