Need access to the most reliable freelance marketplace? Look no further. We have compiled the top freelance marketplace lists for freelancing professionals and beginners. They all offer a high percentage of jobs and payouts. These companies are scattered all over the world but they are easy to get into and their signup process is simple, free and straight forward.
The explosion of our connected world and the internet boom has brought tremendous financial opportunities and wealth to places where it was not possible before. The most notable evidence of this change is freelance. In this article, you'll find the ultimate freelancing marketplace list that would revival any blog or Wikipedia's current listing. I can't beat Wikipedia but it felt great saying that.? Below, you'll find 30 freelance companies to pick from.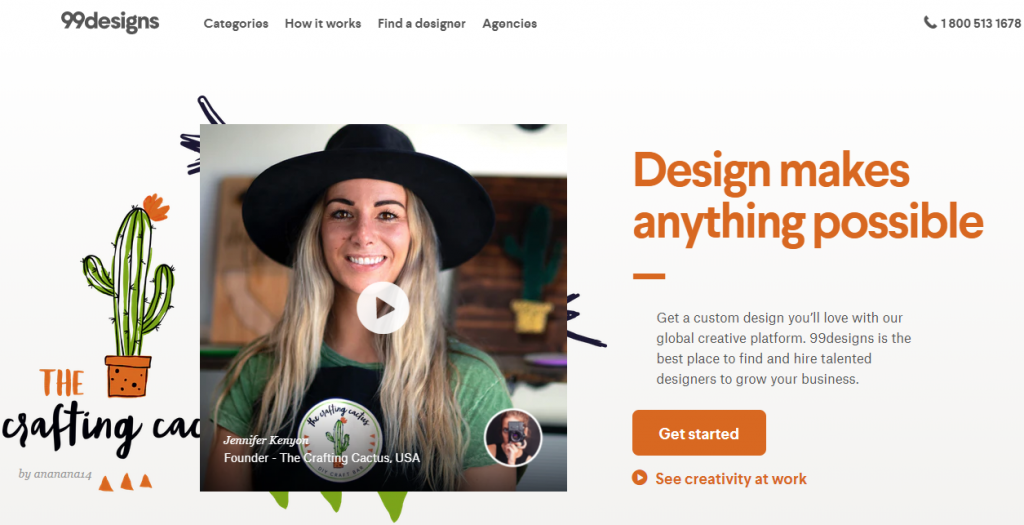 The first on our list of Freelancing Marketplace List is 99 Designs. They are known for brilliant design concepts submitted by designers & professional creators from around the world. The platform was founded in 2008 by a group of designers who were competing for the best unique design. To date, 99designs has earned over $200 million with a growing global community of artists.
To become a freelance provider on 99designs you simply signup for free
Target Categories: Logo and Brand Identity, Logo & Business Cards, Logo & Hosted Websites, Webb and App Designs, Business and Advertising, Clothing and Merchandise, Arts and Illustration, Packaging and labeling, Book and Magazine.
---
Catalant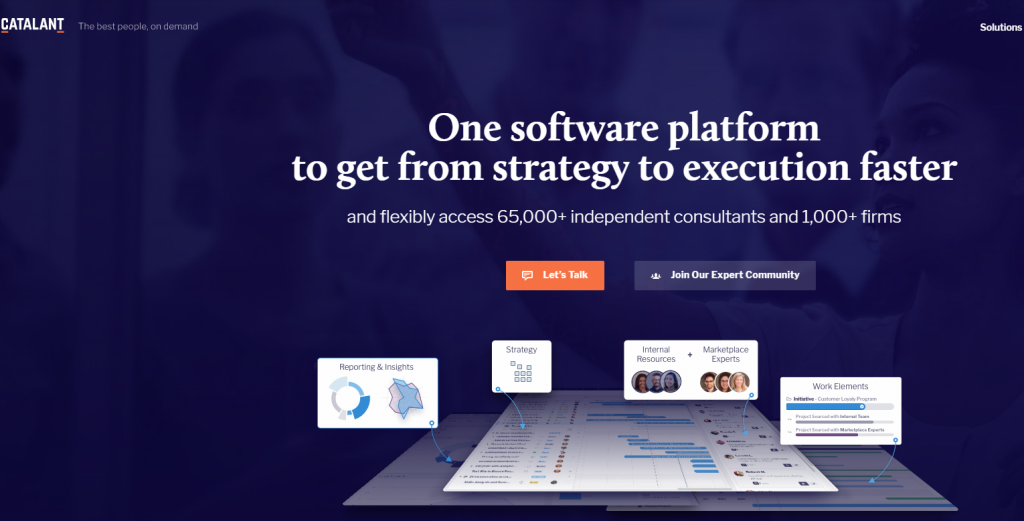 Catalant is a platform that connects independent experts in the field of business to a wide array of companies from small to fortune 500 ones. Primarily, the platform helps businesses to learn and cope up the technological growth and provide strategic support. They help companies find the right software solutions. Companies can hire independent experts or make custom teams for particular projects through Catalant. They can also access and use top-notch software through them.
Initially known as HourlyNerd, this company has grown tremendously in the past 5 years. They have Fortune 500 companies like Wal-Mart as their customers. Their talent pool is very impressive and includes employees, incumbent consultants, over 50000 independent experts, and 1000 boutique who offer business solutions. They use high-end technology to match their clients to the experts.
Experts can be hired on-demand basis for short or long-term projects. Their platform allows freelancers and clients to interact directly and enables call scheduling, fee negotiation, and proposals. The pricing model used is quote-based. Their user-satisfaction is 86%. But Catalant can be highly beneficial for the companies because they provide only freelance experts and not any newbie. As a freelancer, you should be an expert before you can be a part of Catalant's team of freelancers.
Main Categories: Corporate strategy, marketing, operation and process improvement, business development and sales, finance, human resource, commercial operations.
---
ASK For Task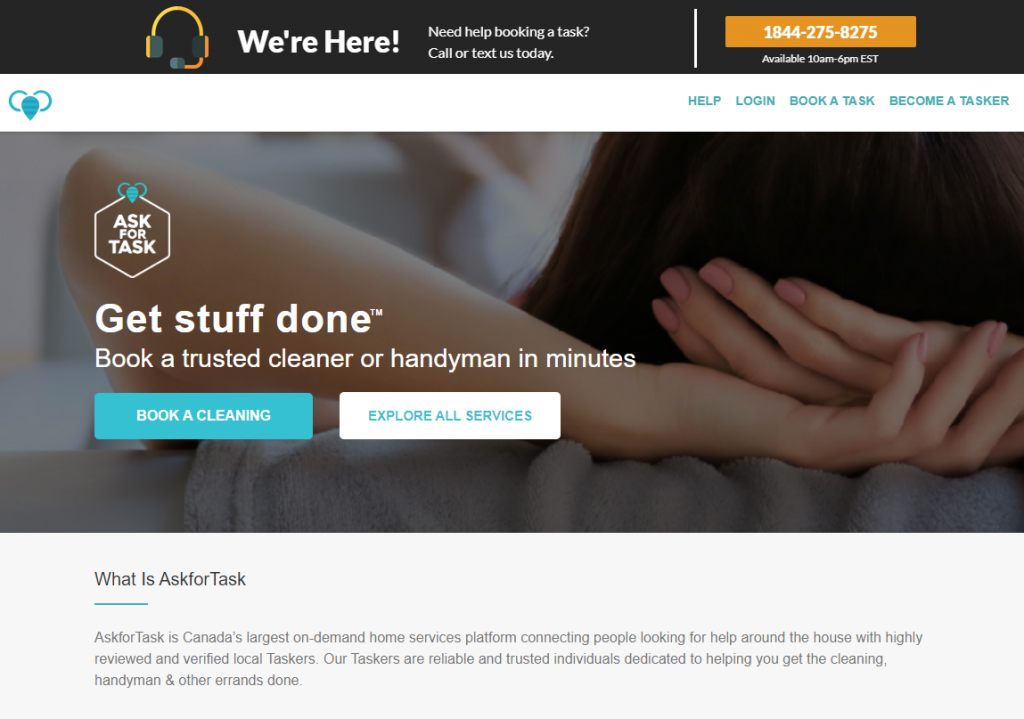 Ask for Task is a Canada based company. They are positioned to service the cleaning, handyman sector with qualified cleaners and professionals. Individuals who wish to become a tasker simply register on the website for free and verify who they say they are.
Target Categories: Cleaning Service, Handyman
---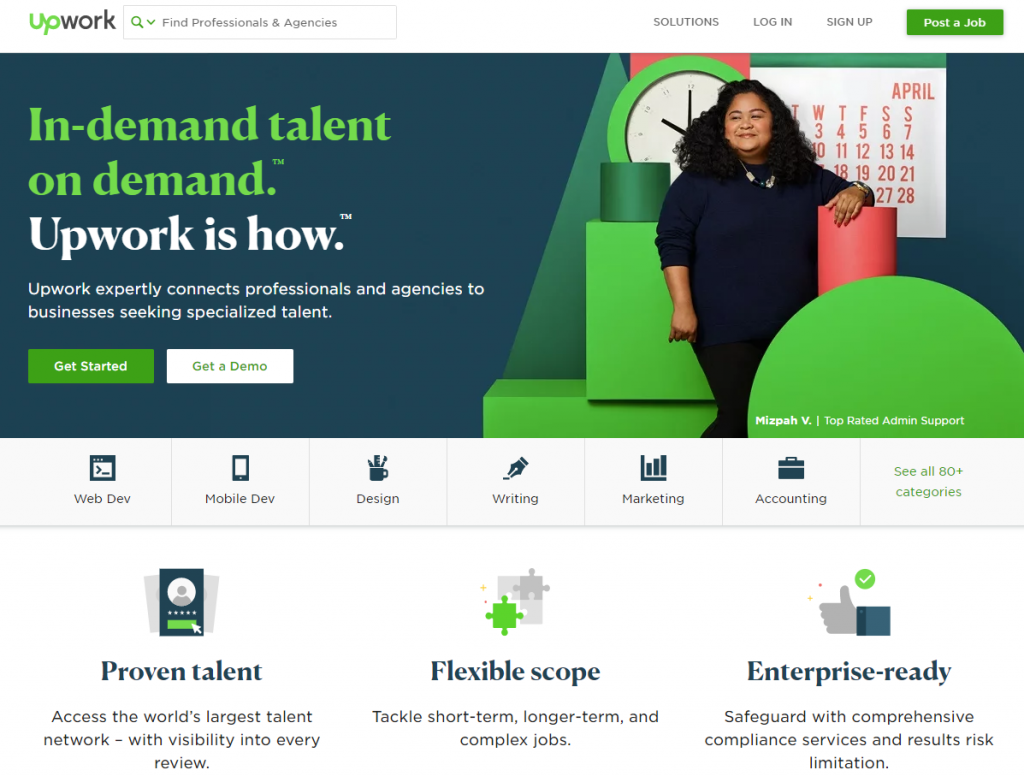 Undoudbly, Upwork is one of the largest freelance marketplaces in the world today. Formally, Odesk, It acquired Elance and it was Elance-Odesk. Then it morphed into what we know today as Upwork.
The company has experienced significant growth and system changes and upgrades over the years. Upwork is also reliable and it has many highly skilled freelancers with many of them earning money by providing companies with over 5,000 skills across more than 70 categories of work.
Signing up with Upwork is free for and providers will pay a percentage to Upwork for using the service.
Main Categories: Web, Mobile and Software Development, IT & Networking, Data Science & Analytics, Engineering & Architecture, Design & Creative, Writing, Translation, Legal, Admin Support, Customer Service, Sales & Marketing, and Accounting and Consulting.
---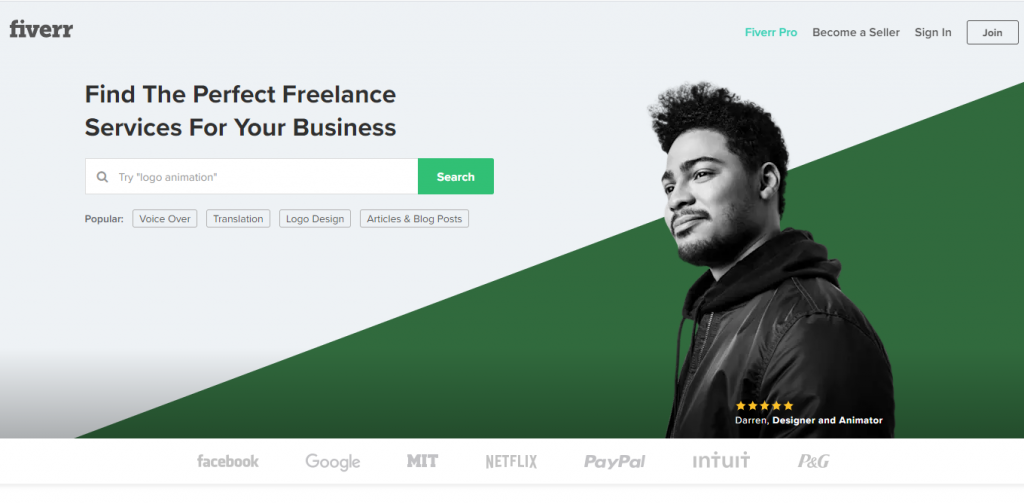 Fiverr began as a $5.00 online freelance service provider. Users would signup as a seller and do a single project for just five dollars. Today (2020), the freelancing platform has become very popular and the service has grown rapidly over the years. Fiverr is a multi-million dollar business with offices in New York, Tel Aviv, San Francisco, London, and Berlin.
Fiverr currently supports 23 currency other than the US dollar and the service supports individuals in 160 countries. I should also say that Fiverr still supports the $5.00 but they have branched out to accommodate PRO services with much high cost per task.
Fiverr also does not like taking work off the platform for security reasons and customer protection from getting scammed. Let me just say it's prohibited to take your job or service out of Fiverr.
To use the service you would simply signup to become a seller.
Main Categories: Graphics and Design, Digital Marketing, Writing, and Translation, Video, and Animation, Music and Audio, Programming and Tech, Business, and Lifestyle
---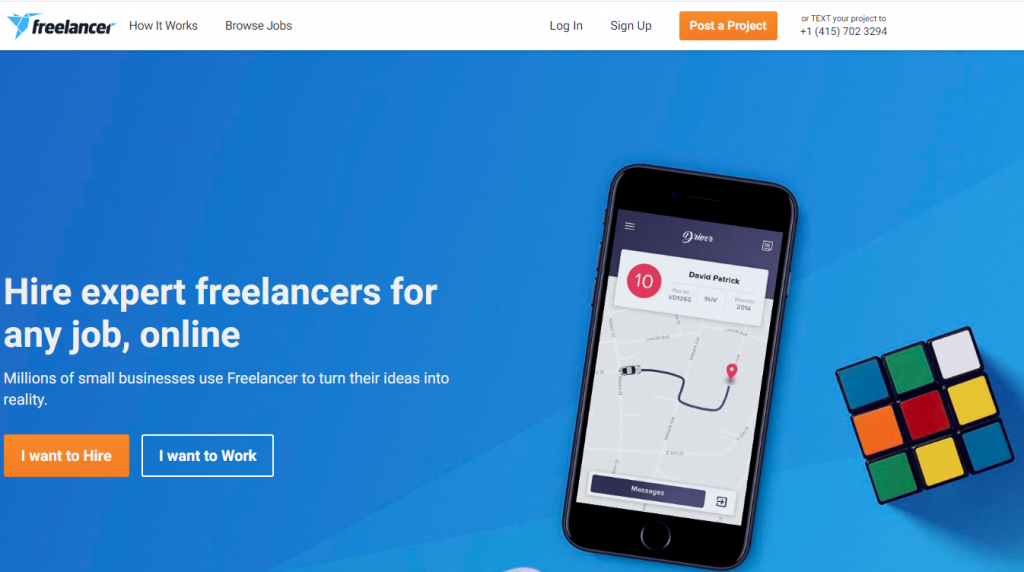 Freelancer is the world's largest freelancing and crowdsourcing marketplace by sharing the number of users and projects performed on a daily basis. They connect over 41,003,684 employers and freelancers globally from over 247 countries, regions and territories.
Through their marketplace, employers can hire freelancers to do work in areas such as software development, writing, data entry, and design right through to engineering, the sciences, sales and marketing, accounting and legal services.
Freelancer Limited is trading on the Australian Securities Exchange under the ticker ASX: FLN! Freelance providers will pay 10% for using the service.
Main Categories: Website and IT Software, Design Media and Architecture, Product Sourcing & Manufacturing, Business, Accounting, Human Resource & Legal, Mobile Phones & Computing, Data Entry & Admin, Sales & Marketing, Translation & Languages, Writing and Content, Engineering & Science, Freight, Shipping & Transportation, Local Jobs & Services.
---
Builders Crack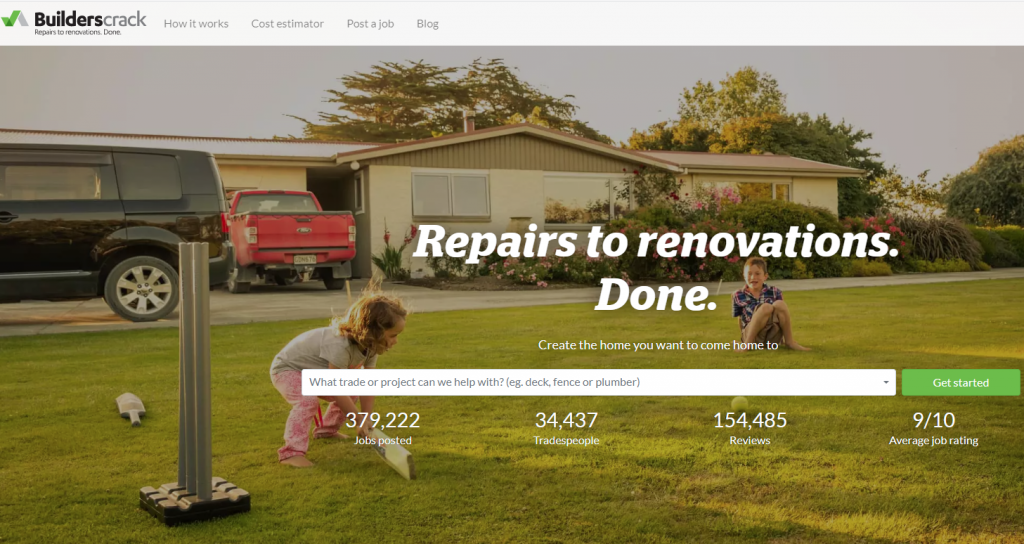 Builders Crack is native to New Zeland. The company was founded in 2007 and has help homeowners from around the world get repairs done on their property by local tradespeople or "Tradie" as they are called in New Zealand. The services offered reminds me of AngiesList and HomeAdvisor with a much smaller audience.
If you live in NZ and you have trade skills then this job site should help with continuous work post by home and business owners.
Job Categories: Plumbers, Electricians, Roofers, Gardeners, Painters, Planners, Building Maintenance, builders, Mason, Contractors, Handyman, HVAC, Carpenters, Metalworks, Welder
---
Advertisement
---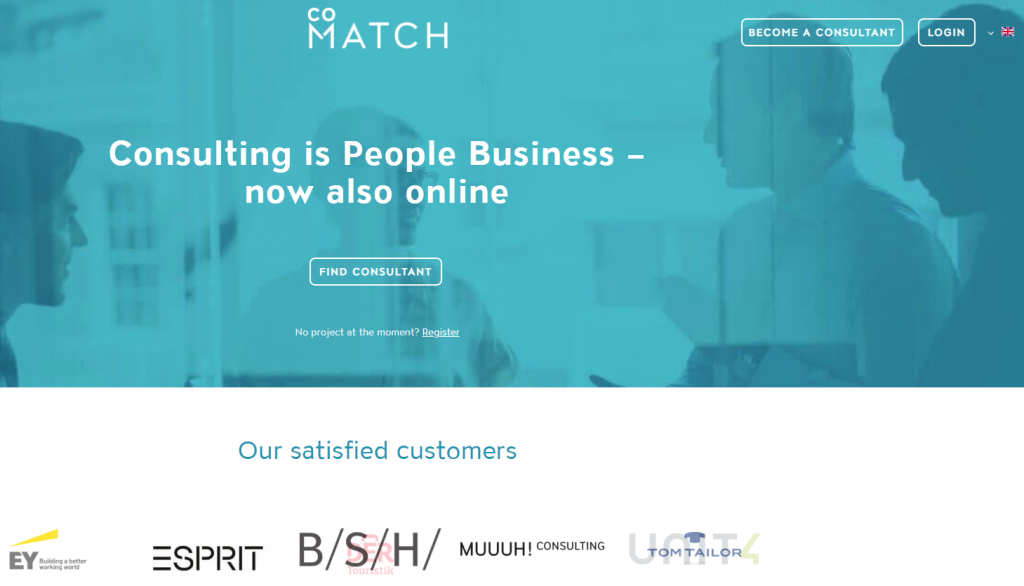 CoMatch is a network or Consultants that offer their professional expertise to business and individuals around the world. In the CoMatch system, there are over 10,000 independent management consultants, 30% industry experts, and 20% finance experts.
The company is very selective in who they let into their network of freelancers. Less than 50% of applicants who wish to become freelancing experts for CoMatch are accepted into the network.
Qualified candidates are currently been accepted but the acceptance rate is half or less. If you're not that good, don't bother.
CoMatch is a Berlin-based company but has 8 physical offices around the world
Major Categories: Marketing & Sales, Market Research, Operations, Organization & IT, Strategy and Finance
---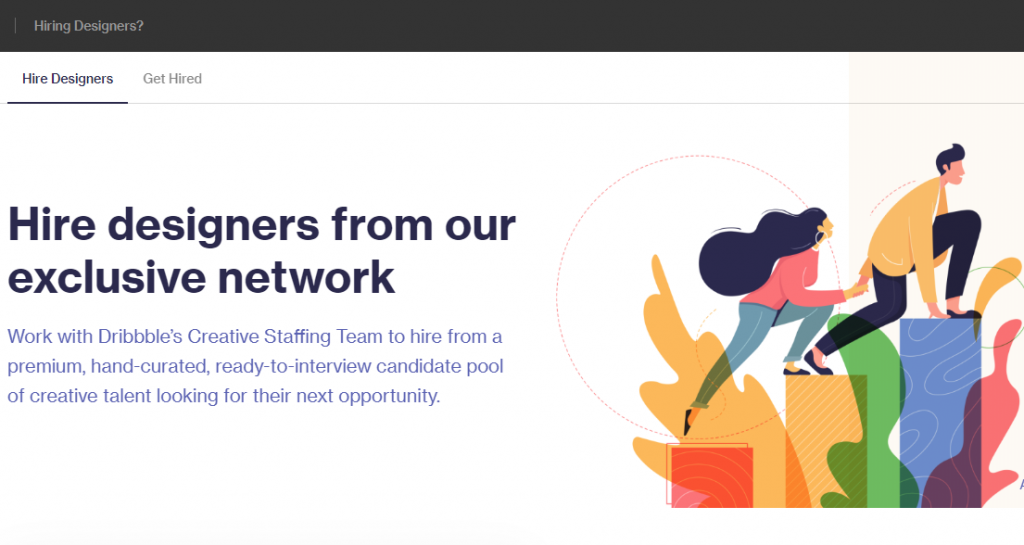 Dribbble is an online platform founded in 2009 that allows designers to create their own portfolios, share their work and network with other designers. Dribbble allows the designers to promote themselves in their platform. The platform itself is fully remote and doesn't have any headquarters. They are very popular in the design niche and many leaders in the field have their profile here.
The basic appearance of Dribbble is like a social media platform for designers. It allows designers to share their work by posting screenshots of it. This helps to show off your talent and boost your portfolio. You can also connect with other fellow designers from across the globe on Dribbble. They have the largest job board in this niche. Top brands like Amazon, Mailchimp, Facebook, Starbucks, Walmart Labs, Vimeo, Thought Bot and many other companies have hired design experts from this platform. They have advanced filters to help companies hire designers more suited for their needs and assist them through the entire process.
It is a great platform for designers, whether or not they are looking to be hired. Being a part of this designer's community can help you gain inspiration and follow the trends in your field. You can a separate design portfolio on this platform and boost your work. You can even you this platform as a tool to research for your projects and find new things to learn.
Major categories: Branding, animations, illustration, web design, product design, print, mobile and typography.
---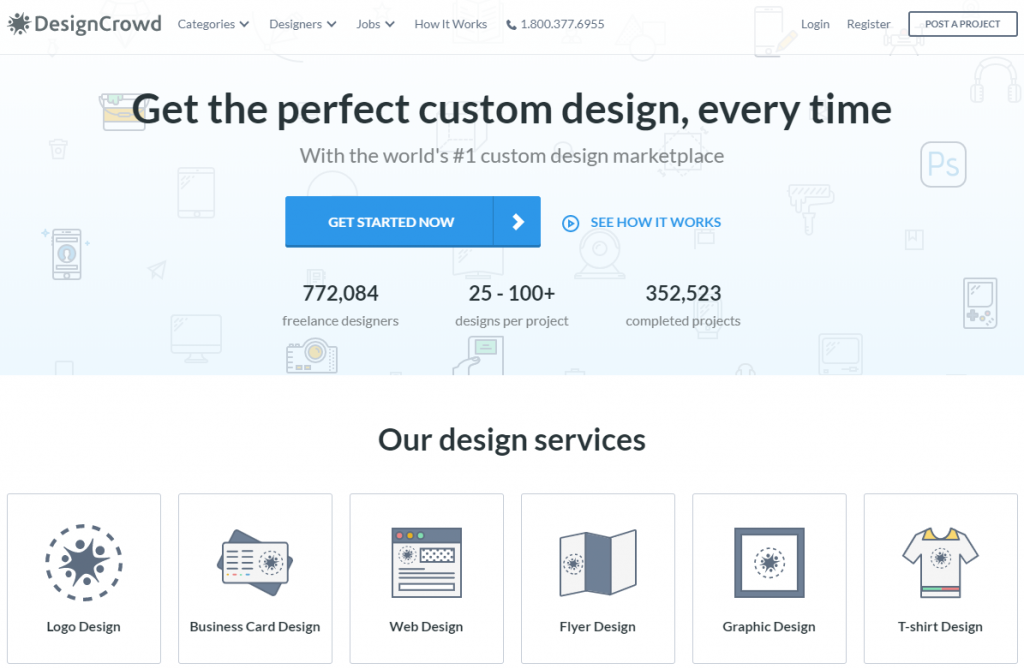 Design Crowd is an online crowdsourcing platform that focuses on designs. Established in 2008, it has made a name for itself as a global network of designers. Start-ups, big or small businesses or individuals can use this platform to find help in their design projects. You can get custom designs in almost any area you can imagine. The platform has designers who can assist you in anything from web design to book cover design or merchandise design.
More than 77,000 thousand designers have signed up in their platform and they have over 22 million designs uploaded. For someone to get a custom design for their purpose, all they have to do is launch their project in the platform with relevant details. Once the project is launched the different designs get submitted and they can choose the one they like from it. If you don't get the design you want there is a money-back guarantee as well.
The platform supports the contest format to one on one freelancer hiring. So, every time there is a project launched, it is done so a contest. The freelancers should submit samples according to the need of the project and they can select whichever they like the best. But this isn't to say that you cannot hire a designer for a one-on-one project. For this, you have to browse through the freelancers' page and find the designer you want to work with. In their bio, you can see the kind of one-on-one projects they take up and the fees they charge.
Major categories: Logo design, identity design, graphic design, Ad Design, Web design, App design, designs related to digital marketing, product and merchandise design, art and illustration, billboard design, signage design, resume design and print design.
---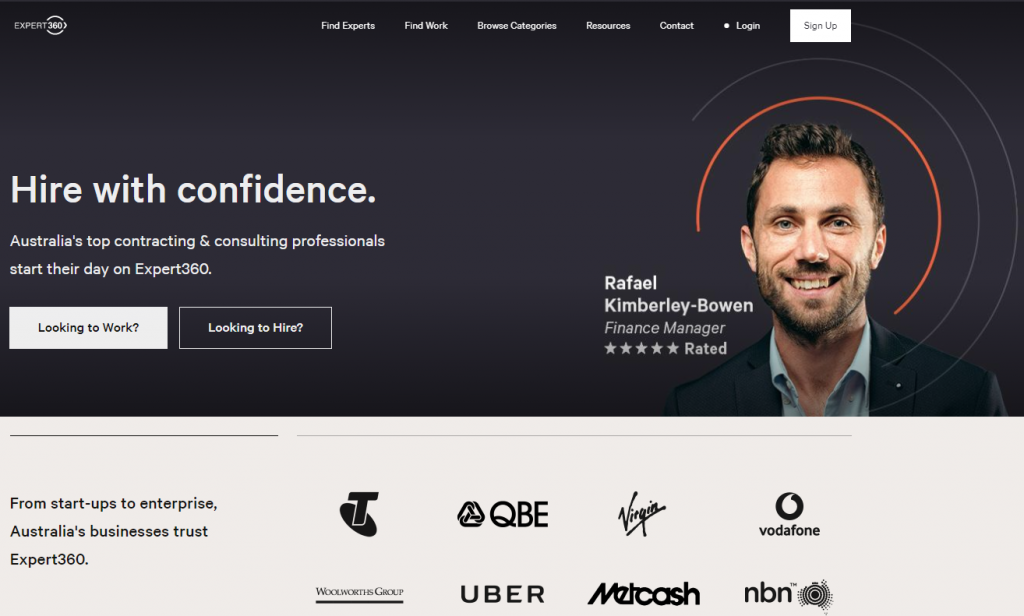 Based on Australia, Expert 360 is an online platform that aims to connect businesses with independent consultants and experts. These freelancers can be hired for short-term or long-term projects as per requirements. Businesses like Uber, Virgin, Vodafone, Metcash, and QBE have used this platform to hire independent consultants.
As a business, you will post the project that you want to be done. Using their technology and talent specialists they curate a list of experts who suit your needs. You can hire from the experts from the list they give you after reviewing their applications. Expert 360 takes care of contract, insurance and payments for you. They have a very stringent screening process before letting a person be part of their expert team. Once a person applies to be a part of the Expert 360, they first check the application and later perform an identity check. They personally speak with each applicant to assess their communication skill and references. This way companies are assured, quality consultants.
For an individual to apply to this platform you have to hail from Australia, New Zealand, Singapore or Hong Kong. You have to have a minimum of two years of professional work experience in fields related to business. When you get approved after their screening process, you can apply for projects that you like to work on. For freelancers, they help with insurance and payment. They even have a superannuation scheme for which you can choose to contribute.
Major categories: Strategy and planning, finance and accounting, corporate development, governance, risk management, business analysis, human resources, product management, program management, data science engineering and analytics, customer experience, infrastructure, systems, and security, change management, marketing, and media, research and insights, procurement and supply chain, etc.
---
Advertisement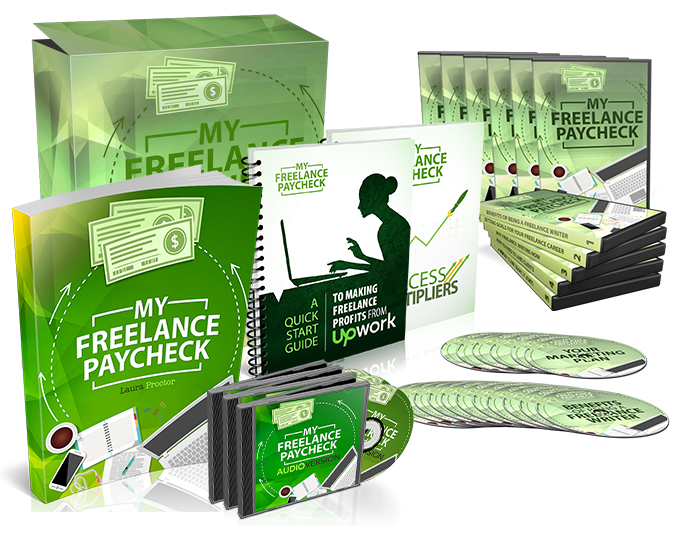 My Freelance Paycheck by Laura Protector
---
Field Nation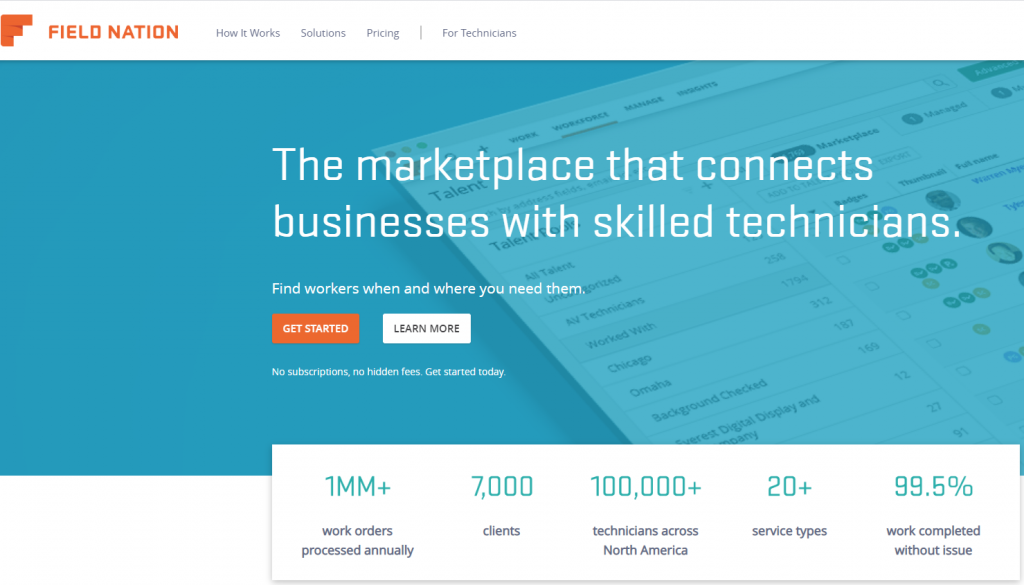 What started as an online platform to manage the IT outsourcing of one client, grew and became a platform that is now used extensively to hire IT and other technicians. Field Nation facilitates its corporate clients to hire technicians and helps them in managing their contracts and even the existing employees through their platform.
Field Nation operates only across North America. They have more than 1 million technicians in their platform and they cater to more than 7000 clients. More than 20 different types are provided and they have a work completion rate of 99.95% without any issue. Clients can post the jobs on the platform and technicians will send requests to complete the work. Clients can also look at the number of technicians available in a particular area.
Once work is assigned to a particular technician, the technicians keep uploading constant updates like on my way, tasks completed and pictures in the platform itself for the clients to review. After the clients approve the work, Field Nation takes care of the paperwork, tax documentation, and payment of their platform itself. As far as technicians are concerned, all they have to do is make a profile on Field Nation highlighting their skills and apply to the jobs they are interested in taking up. Field Nation also has an App to make it easier for the freelancers to record and update the status of their jobs. They charge a 10% fee and pay you by directly depositing or by PayPal.
Major categories: Audiovisual/ Home theatre, merchandising, low-voltage cabling, desktop, printer, networking, point of sales, digital signage, server hardware or software, CCTV or alarm systems, telecom, carpentry, general tasks, etc.
---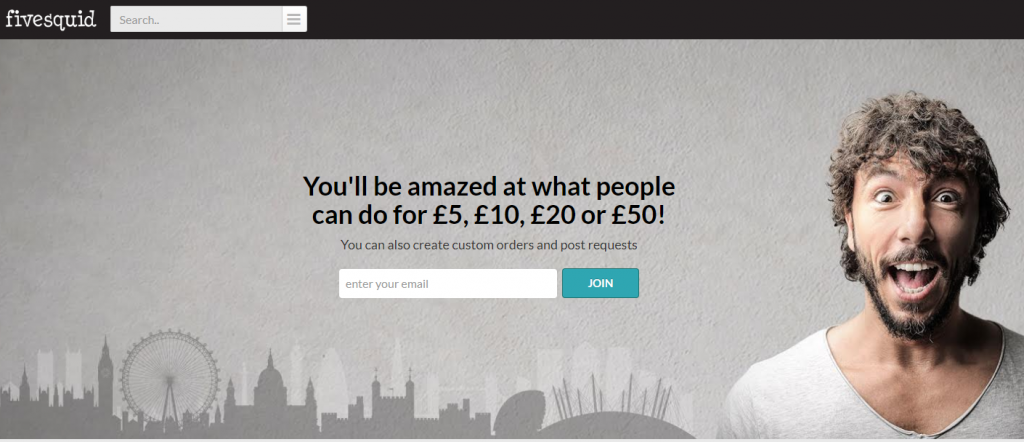 Fivesquid is very similar to the Fiverr in the services they offer. The job listings are in the form of gigs or micro-jobs which are usually cheap and takes less time to complete. The site allows only the pricings at £5, £10, £20 and £50 for normal sellers. While upgraded pro sellers can offer their services at any rate they wish. There are also other perks for pro sellers like offering recurring service through subscription.
The mission of Five squid is to make available for people cheap online services. Among all the services, Five squid is quite popular as the best online platform to buy gifts. It allows freelancers to post any service they can offer at the available price options. Once the buyers opt for a particular seller's gig, they have to pay upfront to Five squid platform. Only then the work on the project begins. Upon the conclusion of work, the platform transfers the money to the seller after taking 20% of it as commission. They use PayPal as their primary payment method.
Five squid is suitable for people looking to make a side income online or a small business looking to expand its customer base. They provide equal opportunities for every seller to land a gig and their website has quite a friendly, easy-to-use interface.
Major categories: Graphic design, cartoons, and caricature, web design, banner ads, articles, blog posts, Proofreading and editing, copywriting, cover letters and CV, translation, SEO, digital marketing, commercials, editing and post-production, voiceover and narration, singers, songwriters, editing and mastering, animation and 3D, web programming, IT and support, Mobile apps, virtual assistant, finance, legal, branding and advertising, market research, etc.
---
Gengo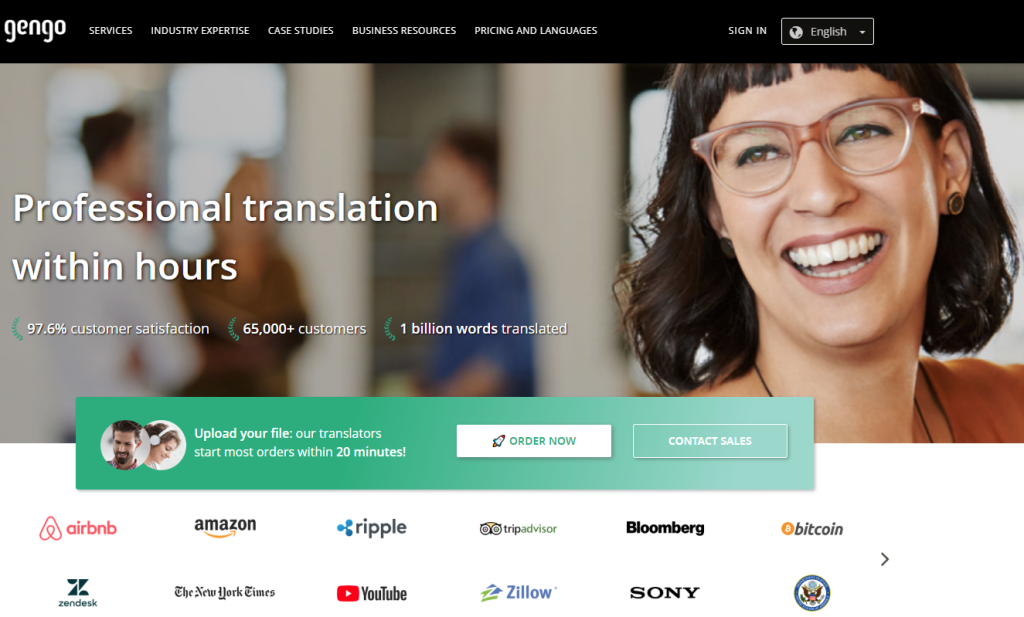 Gengo is a platform that primarily offers translation services via crowdsourcing. Translation solutions are provided for various different functions like YouTube, Amazon, Magento, SendGrid, WordPress, and Zendesk. Industry-wise listing is also available on the website. For clients, there are two options to choose from. One is to get their translation done by API and the other is to hire translators to do the job.
For getting the translation work started the clients simply need to place an order through an order form. The job is distributed automatically and within minutes you can expect a translator to take up the work. Gengo has more than 25000 active translators on its platform from different time zones. So, you can expect a quick turn-around time. Clients can directly talk to the translators as the work is getting done and leave comments or give any guidelines necessary.
To qualify as a translator in Gengo, you need to sign up and take a two-part test. If you pass it and get approved, you can start translating. Translation payments get added automatically to your account. If you pass their Pro Qualification test, you get the opportunity to work on bigger and more rewarding projects. Gengo has a calculator on its website that can show you the possible average income you can make according to the language you are translating. With the integration of manual work and AI, the translator gets real-time corrections and suggestions from the AI system.
Main categories: Translation, app localization, website localization, translation parallel text corpus, AI training data, transcription, proofreading, copywriting, content generation, ad reviews, sentiment analysis, and translation solution.
---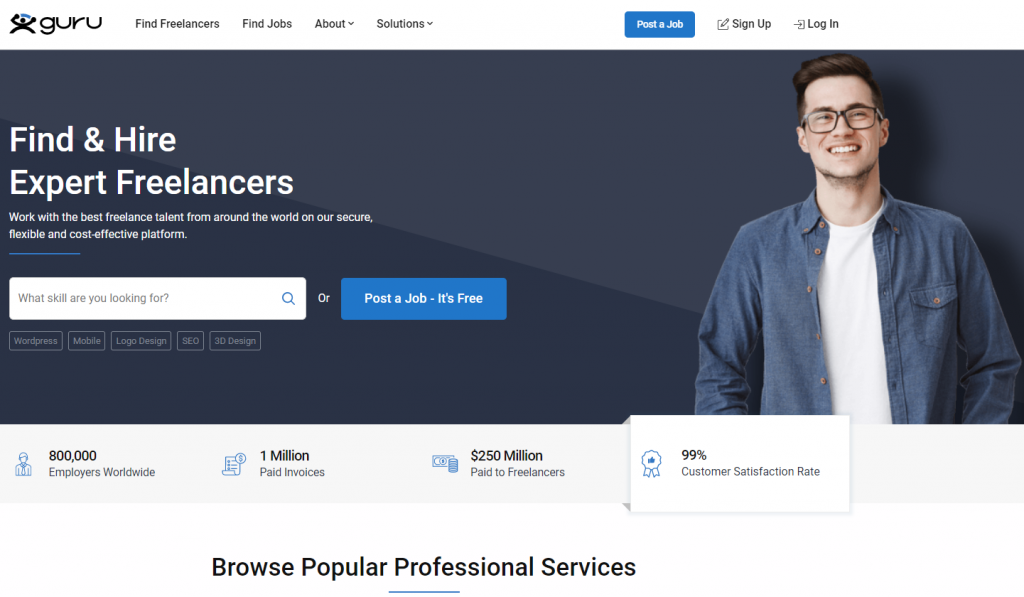 Guru is a freelancing platform where almost all kind of freelancers offers their skills for employers who would want to hire them. The platform works across the world. They have a 99% customer satisfaction rate and more than 800,000 employers around the world who are using Guru to hire freelancers. The freelancers have totally been paid more than $250 million.
The clients who want to hire freelancers from Guru can simply post their job on the platforms. The freelancers see these job posting and send quotes for it. Based on the quotes and the profile of the applicants the clients can choose who they want to hire. Once hired they can collaborate and communicate through the workroom facility provided by Guru. Guru ensures that your payments are secure through Safe Pay protection.
It is very easy for people to become freelancers with Guru. They can simply sign up and start sending quotes for jobs. They have a verification process. The chances of being hired increase once you get good feedback scores and earn decent money through the platform. A freelancer can choose to work at fixed rates, hourly rates, task-based payments or recurring payment as they wish. The biggest perk of Guru is the low fee of 8.95%, compared to other freelance platforms that charge up to 20%.
Major categories: Programming, app development, web designers, WordPress developers, SEO, Lead generation, blog managing, advertising, telemarketers, product listing, social media marketing, marketing research, Google AdWords, project management, analytics, financial forecasting, business development, business planning, human resources, translation, content writing, creative writing, proofreading and editing, transcription, artists, graphic design, rendering, photography, video editor, data entry, virtual assistant, engineering, architecture, legal, etc.
---
Projects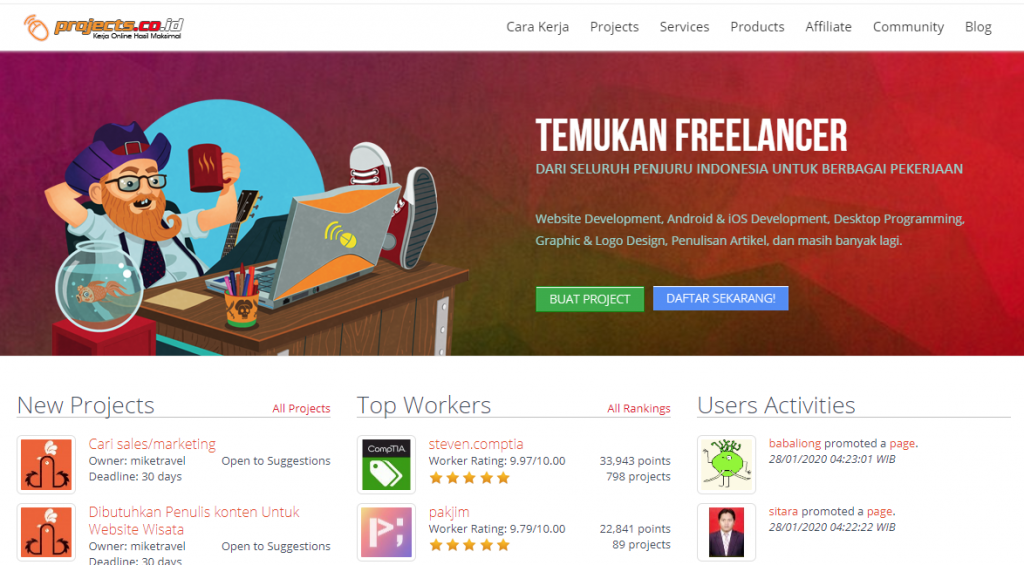 Projects is an Indonesian freelance company that launched in 2013 and it is currently offering similar categories in jobs as the others on this list. If you are from Indonesia or speak the language, this would be an awesome opportunity.
You can expect to find, data mining, landing pages design, content providers, logo design, SEO service, WordPress, graphic designing, social media marketing, PPC setup, 3D modeling & animation, article writing, complete site build and more.
---
Advertisement
---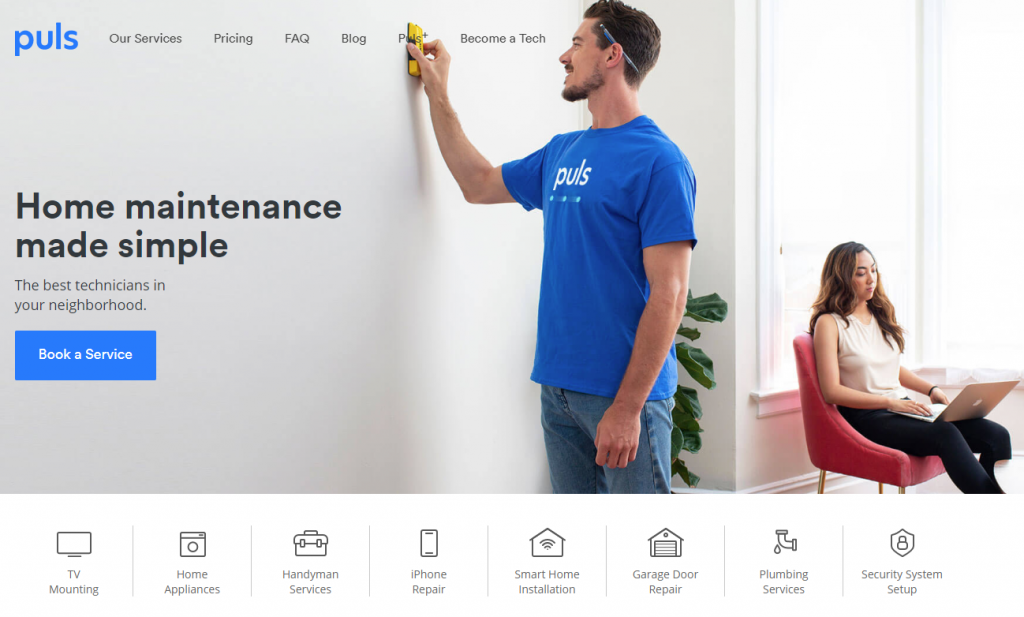 Puls is a platform that provides on-demand tech services. It started out with only providing mobile phones and tablet repair services. Today it has expanded to provide tech services that the everyday household will need from mounting the TV to set up a security system. Puls is only available across particular cities like Phoenix, Chicago, Atlanta and so on. They have prices listed for each of the services on their website itself.
They aim to connect the local technicians with people who are in need of them. All the clients have to do is convey what service they need, when and where. Usually a technician from the locality contacts within an hour. There is no need to ship the device that needs to be fixed or provide tools for the technician. The technician will finish the job in your home. You can pay once the job is done using cash or card.
To become a tech in Puls you need to have experience in repairs or installations, be eligible to work in the US. Once you apply, there will be a background check that you need to pass. As a technician, you will have the flexibility and can decide when you will work. Their pay-out is very frequent (3 times a week), which is great. They have a Puls Technician app so that you can browse and choose the jobs you want to do on the go.
Major categories: TV mounting, home appliances, handyman services, smart home installation, iPhone repair, garage door repair, plumbing services, and security system setup.
---
Scripted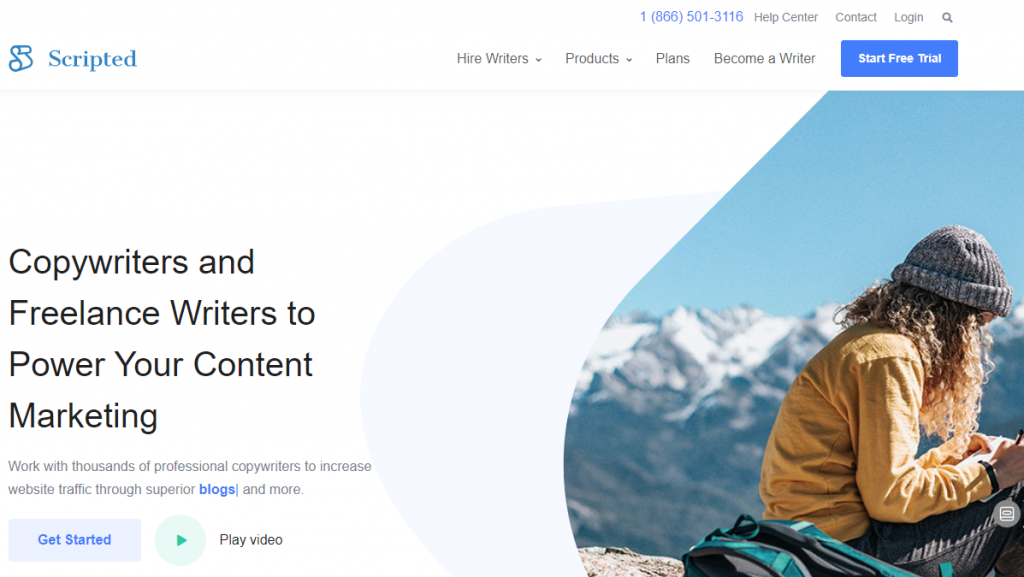 Scripted is a freelance platform focusing primarily on content creation. Businesses can hire content creators to do single or bulk projects in the area like blogs, social media posts, etc. The platform provides great tools to manage and scrutinize all your content writing projects. They have expert content writers in every area. Companies like Loreal, LinkedIn, Apartment list and Eventbrite trust scripted for their content projects.
For clients to start hiring freelance writers, they have to sign-up on the platform and choose a membership plan. The first month is free for clients. Then you can post writing jobs as per your needs and freelancers will apply for it. There is also an invite-only job option where you can send invites to the writers you prefer. Out of the proposals, you can select the one you prefer and will mostly get the draft of work within a week. Scripted makes it easy to send feedback and corrections.
As far as freelancers are concerned, they will have to clear a test after applying to start working with Scripted. You can start sending proposals for the jobs once you set up your payment. If your proposal is accepted, you can start talking with your customers, submit your work and get paid. Scripted takes up to 10% as fees and the rest comes to the freelancers. The amount you will be paid for the work and the fees are visible to you from the beginning. Scripted currently pay writers in 24 countries only, so, check before you apply to be a freelancer.
Major categories: Blog posts, web pages, social media posts, news releases, custom projects, newsletter, product description, video scripts and content tune-ups on different topics and industries.
---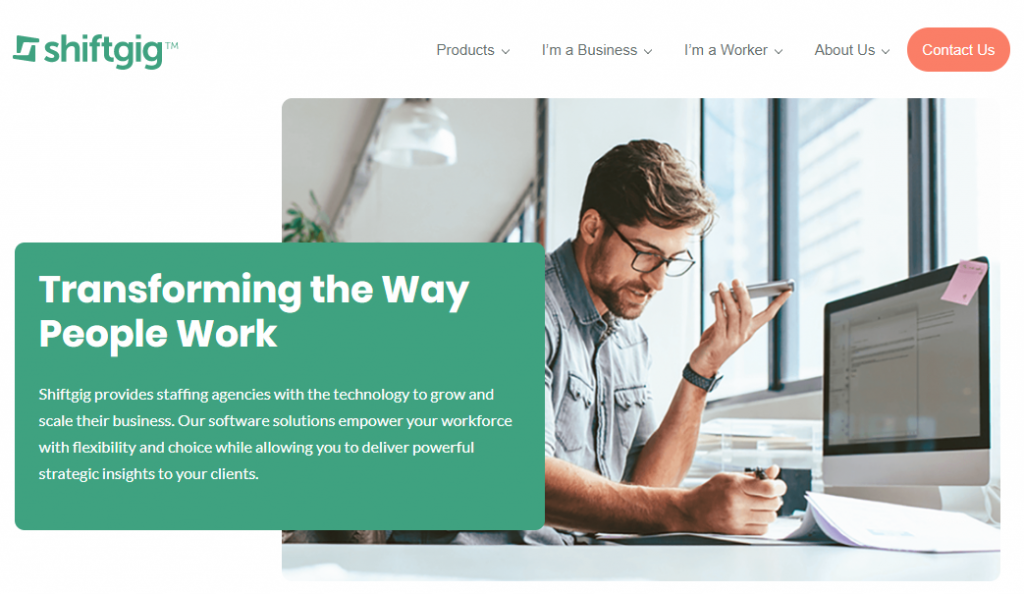 Shiftgig started out as a platform to connect restaurants and bars in Chicago to the workers are who are ready to work for most long-term work. Today it has grown into a platform that connects works on on-demand and hourly shift basis with various industries that would need contingent staffing. Businesses and staffing agencies both use Shift Gig to find workers.
Shift Gig has an app for both employer and employee separately. A worker in the Shift Gig platform can search for jobs in their locality and apply for it on the go through the app. It provides great flexibility and control for shift workers. Each gig rate is visible to you when you apply so that you know how much you would make. Opportunities are available all across the US. Many trusted staffing agencies like EZgig, Headway Workforce Solutions, the Job center, Bolt gigs, Staffers, etc. use this platform.
Shift Gig provides an app called Deploy for business and staffing agencies who want to manage their workforce. You can record and manage all the information related to your workforce in the app itself. Providing choice and variety of work to the workers through Deploy helps in retaining the workers for long, increases the attendance and preparedness of the workers as they know what they are signing up for. With the staffing work taken care of through Deploy easily, the business can focus on other aspects to grow its business.
Major categories: Hospitality Staffing, Light Industrial Staffing, Experiential Marketing, and Healthcare Staffing
---
Sribu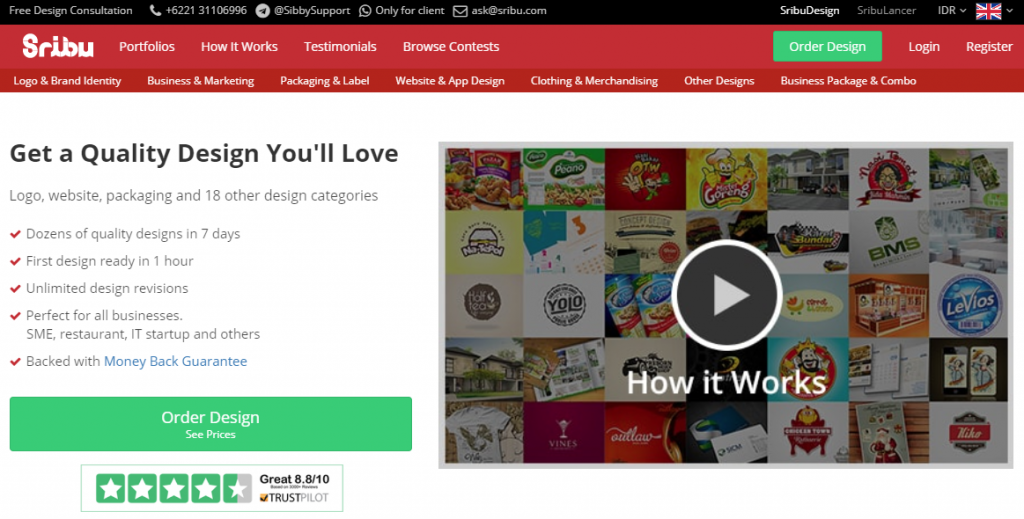 Scribu is a platform that is a one-stop solution for all your design needs. They have more than 1,000,000 portfolios on their platform and have served for more than 11,000 clients. They provide free design consulting services as well. There are more than 170,000 certified designers available on their platform. The platform primarily operates in Indonesia.
As a client, you can order any design you want through Scribu. You have to choose a package and provide specifications that you need for designs. Your gig will be posted as a contest for the freelancers. You can expect your first design within an hour and will get more than 100 designs in 7 days. You can give feedback and ask for the changes you want. Choose the design you need and they will be declared as the winner of your contest. Unlimited revisions can be made and there is a money-back option in case you are not satisfied.
Scribu has a separate page called Scribulancer, where freelancers can sign up and look for freelancing jobs across many areas like Mobile App Development, Web Development, Design and Creative, Administration and Support, Sales and Marketing, Business and Financial Consulting and Writing Services. Sign up and applying for jobs is completely free. Once a proposal has been accepted by the employer, he pays a deposit to Scribulancer. You can get paid as and when the work is done.
Major categories: Logo design, stationery design, Logo Design, Mascot/Character Design, Website Design, Mobile Apps Design, Product Design, Packaging Design, Label Design, Book/Magazine Cover Design, Merchandise Design, Brochure/Flyer Design, T-shirt/Clothing/Office Uniform Design, Calendar Design, Company Profile Design, Banner Design, Invitation Design, Interior, Booth Design, Business Card Design, Poster Design, and Other Designs
---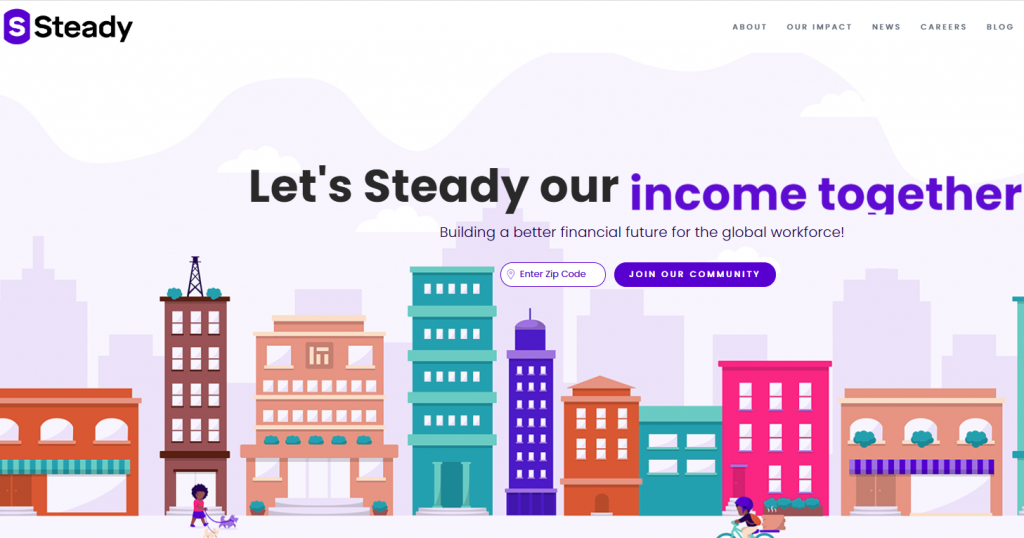 Steady is a platform that not just aims at providing freelance work but also to increase the financial health of the people in America. You can seek financial assistance or even find different deals to save money through this platform. As the name suggests, they aim to provide a steady flow of work and income to people. There are more than 1 million people in this community.
You can download the Steady app or simply start looking for work in your area on their website after you sign up. There is work from home, part-time work, anytime work and full-time work options available. You can also check those works that were recently added. There are lots of filters for you to narrow down and find a suitable job. On average, people who sign up on Steady can earn about $4000 a year.
Using Steady one can set and track your financial goals, share your journey with the community, and inspire and stay inspired through others. They promote having a second income to enhance your financial stability. There is also the feature of income tracker through which you can keep track of your earnings.
Major categories: Childcare, Cleaning Services, Delivery, Food and Beverage, Freelance, General Labor, Hospitality, Moving, Personal Shopper, Pet Care, Product Testing, Professional, Rental, Retail, Rideshare, Senior Care, Skilled Handyman, Staffing Agency, Tech Support, Tutoring
---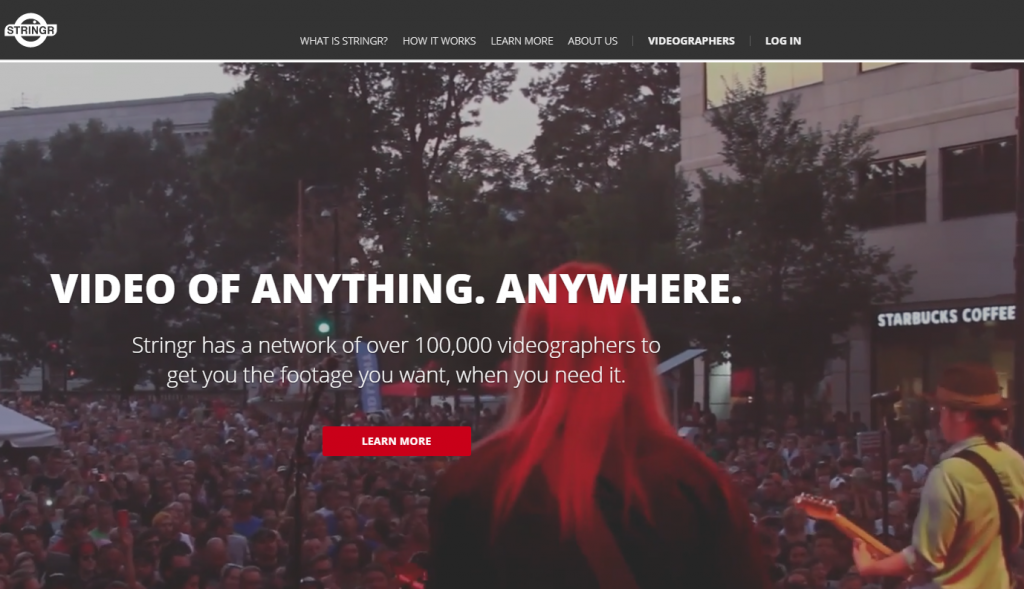 Stringr is a platform for people who are looking to source, edit and manage video content. If you want a custom video, there are more than 100,000 videographers available on the platform who can respond to you in almost real-time.
As a customer, you can request the footage you are seeking on their website. The videographers available in the page will see your request, shoot and submit the footage. You can review it and pick it if you like it. Another option for you is to check their archive. The archive is where are the previous videos uploaded in the platform is stored. If you like any videos from the archive, you download ad use it.
For freelance videographers, you can sign up on their platform for free. There is also a Stringr app that you can download. Whenever there is a need for footage by any customers near you, you will get a notification. If you like the project, you can shoot the video for it and submit it via the Stringr app or website. When the media outlet like your video and downloads it, you get paid for it on the next business day. You can also upload your videos to their archive. When customers download your videos from archive also you get paid.
Major Category: Videos
---
Task Rabbit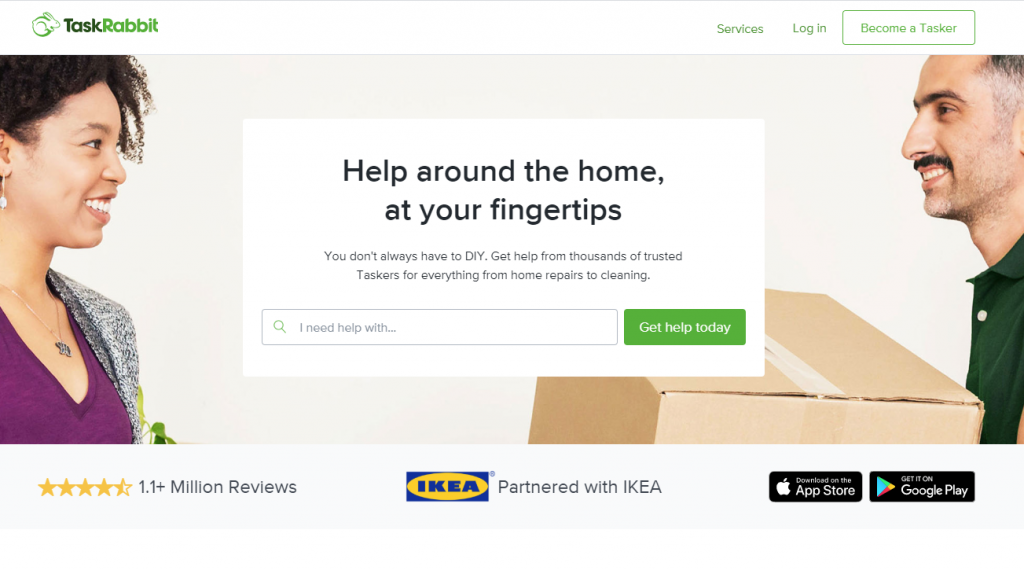 ---
Task Rabbit is a platform that helps you find people that can help you with the things around your house like installation, repair, and maintenance. Task Rabbit is available only in particular cities but is very popular. It has a 4.5-star rating after more than a million reviews. The platform has more than 50,000 taskers and they also provide property damage coverage up to 1 million.
When you have tasks to be done around your house and don't have the time or skill to do it, Task Rabbit is the solution. You can start by typing in what you are looking for on their website. Once you do that, you get to see the list of taskers available to take up the job for you. You can select a tasker you want based on the reviews and prices. When and where you want the task to be done is also completely up tp. This helps you to fix the time when you will be available. One can also make a team of taskers for all future works.
To become a tasker, you have to apply and attend a Tasker Onboarding Session in your city. Once you are through that, you can download the Tasker app and start working. Task Rabbit notifies you every time a task is available in your locality. You can decide on which task you want to do and confirm it with your client. Once the work is done, you can submit your invoice to Task Rabbit. You get to pick your rates and time at which you work.
Major categories: Handyman, Cleaning, Delivery, Moving, Furniture Assembly, Interior Painting, TV Mounting, Light Installation, Hanging Pictures and shelves, Yard Work, Furniture Delivery Service, Grocery Shopping, IKEA Services, and Personal Assistant.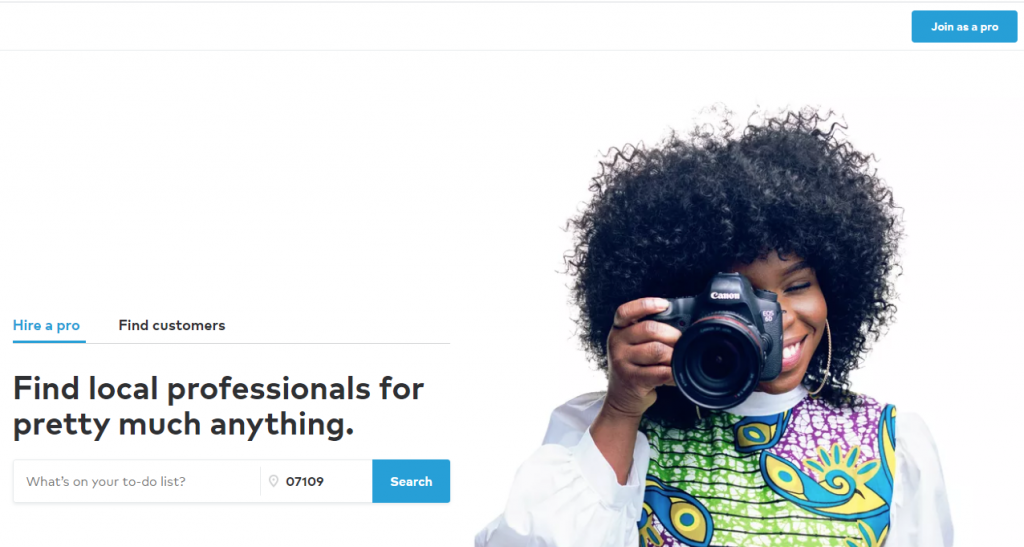 Thumb Tack connects people with handymen and other freelance workers who offer more than a thousand services. It is primarily used as a way to generate leads to get more customers for your business. Their aim is to make hiring handymen as easy as purchasing things in Amazon.
As a customer, you go to their website and enter details of the work you are looking to get done. Thumbtack will show you a list of Pros who are available to take up your work. You can choose one among them or you can opt to get bids from pros. Once you find the right person for you, you can hire them and start communicating with them.
Handymen can look for jobs in which they are interested and bid for them. You only have to pay for the bids that actually transforms into a job. The more quickly you respond, the higher the chance for you to get hired. There are two ways to apply for jobs. You can bid manually after viewing the job details or you can set up Instant Match. Instant match allows you to set preferences for which the platform will submit your bid automatically with a pre-written response. The cost of each job you land depends on how big the job is.
Major categories: Lawn Mowing and Trimming, Wedding and Event Makeup, Photography, Tree Trimming and Removal, Appliance Repair or Maintenance, Tutoring, Marriage and Relationship Counseling, Event Catering, Furniture Moving, and Heavy Lifting, Outdoor Landscaping and Design, Fence and Gate Installation, Rentals, Bartending, Remodelling, Pets, Legal and Electrical and Wiring Repair.
---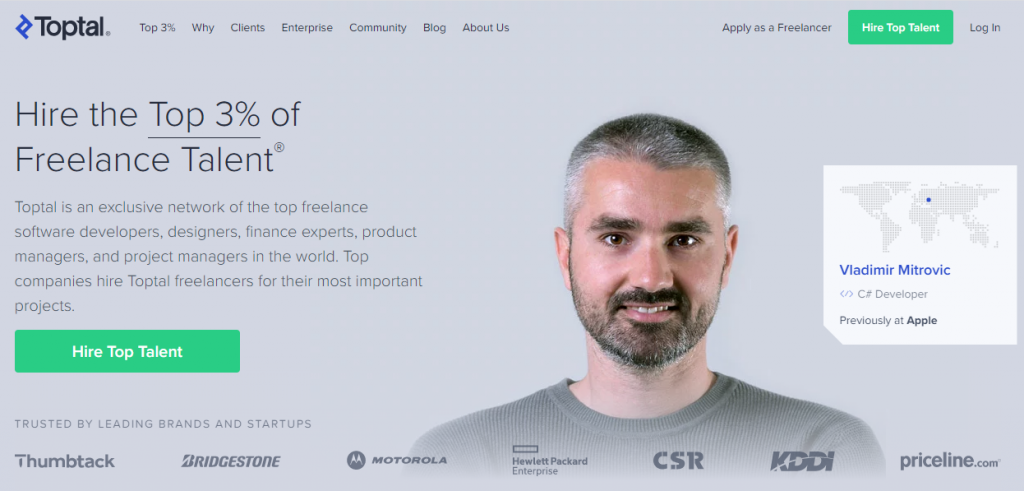 Toptal was founded in 2010 by Tasco Du Val and Breanden Beneschott. The company provides access to top-level industry leaders to clients all over the world. According to their website, the top 3% of Software Developers, Designers, financial experts are available for hire at Toptal.
As a leader in the remote job placement space, Toptal is, in fact, a major provider in the freelancing sector and they provide a connection for businesses to easily find software engineers, developers, designers, and business consultants.
The most in-demand talent in the industry: iOS Developers, Front-End Developers, UX Designers, UI Designers, Financial Modeling Consultants,
Interim CFOs, and Digital Project Managers.
Get access to 10,000+ clients, 500 plus employees, 100 countries and become part of their 7,000+ talent pool.
---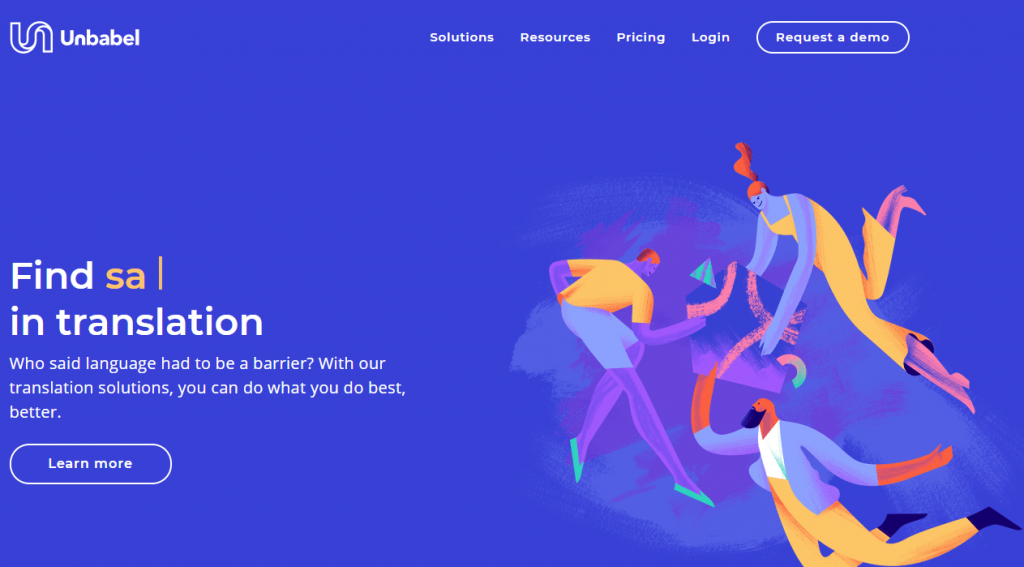 Unbabel is a translation platform that integrates both Artificial Intelligence with the human resource to provide top-notch translation solutions for any type of content. The material that has to be translated first goes through an AI software for translation. But even though the high-tech AI translator, it might lack the touch of a human. So, it is then given to a native to correct and edit the translated file.
For clients to get the translation done in their platform, they have to sign up and provide the specifics of the project like language and amount of material need to be translated. Based on that, the customers will get a quote on how much the project will cost. Unbabel provides translation services for 29 languages as of now.
The freelance translators can check if their language if available and then sign up on the platform. There will be a few language tests before you can qualify to apply for jobs. Once you are approved, you can start translating and get paid for it. You can work from anywhere and at times that are comfortable for you. Every time you complete a translation, the money gets added to your Unbabel account and you can request a cash-out whenever you want. They use PayPal and Payoneer to make payments once a week. They also have a mobile app for your convenience.
Major categories: Translation for travel, translation for retail customer service, translation for games and translation for tech support.
---
ODesk Work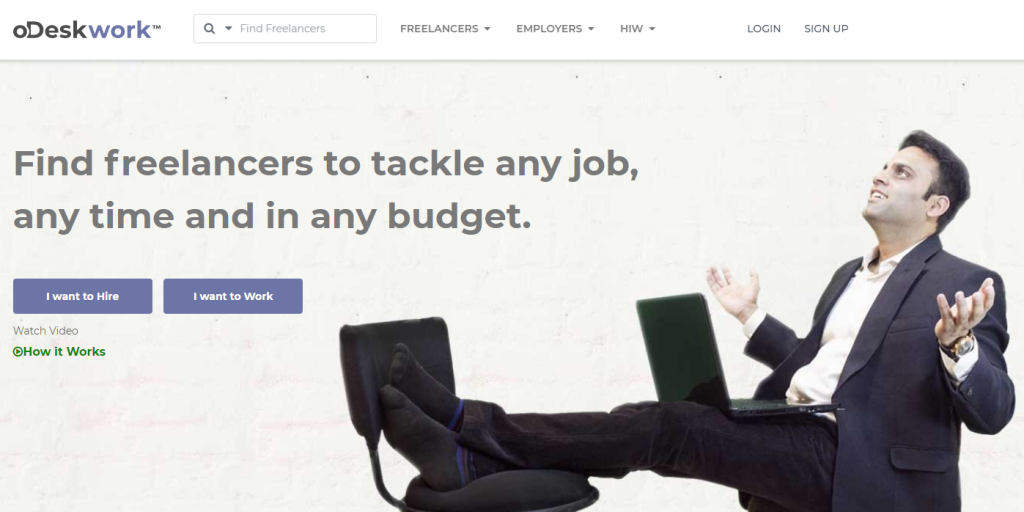 This platform provides for hiring and working as a freelancer in a variety of fields. Freelancers can be found for different jobs and at different price rates. The clients can search for freelancers by mentioning the area of work and other details. You can browse through the profiles available and choose the freelancer who suits you. Through oDeshwork you can chat, share files and make payment to the freelancer.
Freelancers can register on the platform and start applying for a different job that they are interested to do. After reviewing your profile, the clients will decide whether or not to work with you. Once your bid is accepted, you can communicate with your client. When you submit the finished work, the client will review it and choose to accept it or not. If he accepts the work, he will rate your work and in turn, you will rate the work and the project will be done.
Major categories: Video Animators, Film & Tv Productions, Customer Service Representatives, Music Directors, Graphic Designers, Mobile App Developers, VFX Supervisors, Social Media Consultants, Voiceover Artist, Web Designers, Writers, Content Writers, Data Entry Specialists, Facebook Marketers, Objective-C Developers, Sales Consultants, Actors, UX Designers, WordPress Developers, Bookkeepers, Copywriters, Email Marketing Consultants, Animation Experts, Virtual Assistants, Crowd Spring and Projects
---
Advertisement
---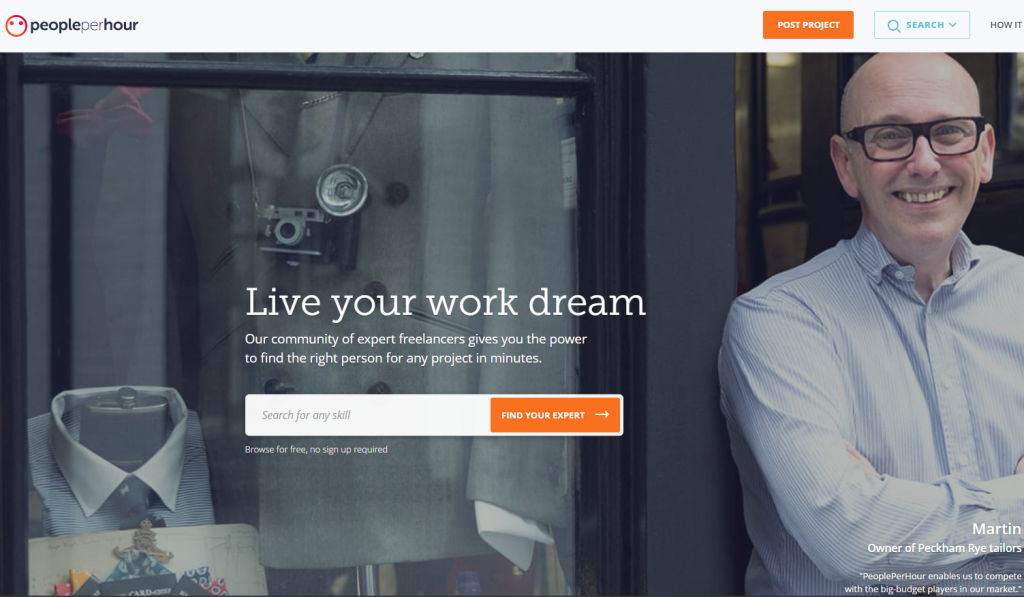 People Per Hour is a UK Based freelance marketplace website and it is currently ranked as the leading freelance talent marketplace in the United Kingdom. The company was founded in 2007 by Xenios Thrasyvoulou and Simos Kitiris.
The platform offers flexible freelance job listing to benefit work at home individuals around the world. Signing up to People Per Hour is free and they currently offer services in 9 categories.
Categories: Technology and Programing, Writing and translation, Design, Digital Marketing, Video, Photo, and Image, Business, Music and Audio, Marketing, Branding and Sales, Social Media.
---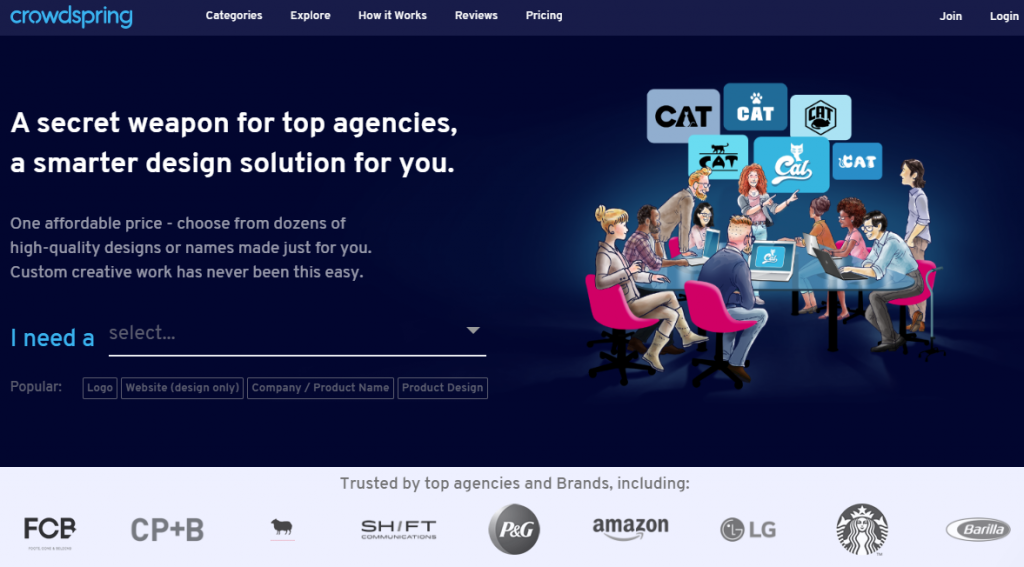 Crowdspring is a platform that aims to bring more choices to the design seekers and more opportunities to the designers. Their platform is global and is available across 195 countries. They have over 200,000 creative designers and more than 60,000 clients have got their design work done through them. Major brands like Amazon, LG, Starbucks, and Barilla have hired designers through this platform.
Crowdspring follows a contest method to select a freelancer to do the job for you. As a client, you need to go on to their website and tell what you are looking for. After listing the project specifics, you have to choose the package suitable for you. Your project will be displayed as a contest and creatives will start sending their designs to you. You can pick the one that you like the most and work with them. If you don't like any designs, there a money-back guarantee too. Also, you get copyright protection for your design.
If you are a freelance designer, you can join the Crowdspring platform by registering with them. They have a verification process before they approve your profile. After that, you can start participating in the contests and earn when you win. But due to a large number of designers signing up on the platform, there is a chance that you may wait-listed for a while.
Major categories: Business Card, Logo, Logo & Social Media Assets, Letterhead & Stationery, Naming & Branding, Company / Product Name, Tagline, Product Design, Packaging Design, Package Graphics, Banner Ad, Blog Theme, Icon / Button / Widget, Email Template (design only), Landing Page (design only), Mobile App (design only), Website (design only), Brochure or Menu, Vehicle Wrap, Infographics, Presentation, Outdoor & Signage, Postcard or Flyer, Poster, Tattoo Wall / Mural Art, Merchandise, T-shirt, Book Cover and Magazine Cover
---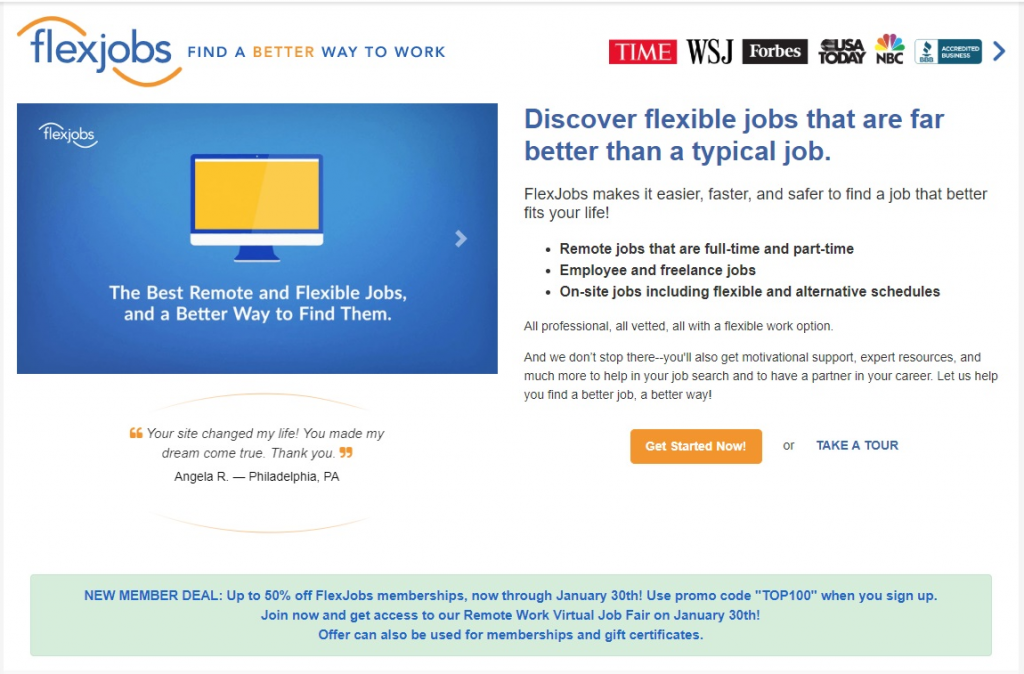 Flexjobs is a paid service. It helps professionals find legit remote jobs for a small fee. Users will be charged $14.95 a month for a short "job search timeline". The higher plans range from $29.95 each quarter or every three months and $49.95 for an entire year.
Flex Jobs was founded in 2007 by Sarah Sutton. The service is built on the premise of eliminating the need to worry about getting scammed when looking for a remote freelance job. Their system removes the risk for potential problems associated with freelancing, wasting time on job boards.
They work with top companies who post directly to this site. Flexjobs also offer there members specialized job search checklists, exclusive access to both Career Coaching and Resume Review at a deep discount, over 170 expert skills tests, thousands of articles, webinars with top hiring companies, educational guides and courses, and more.
Categories: Over 50
---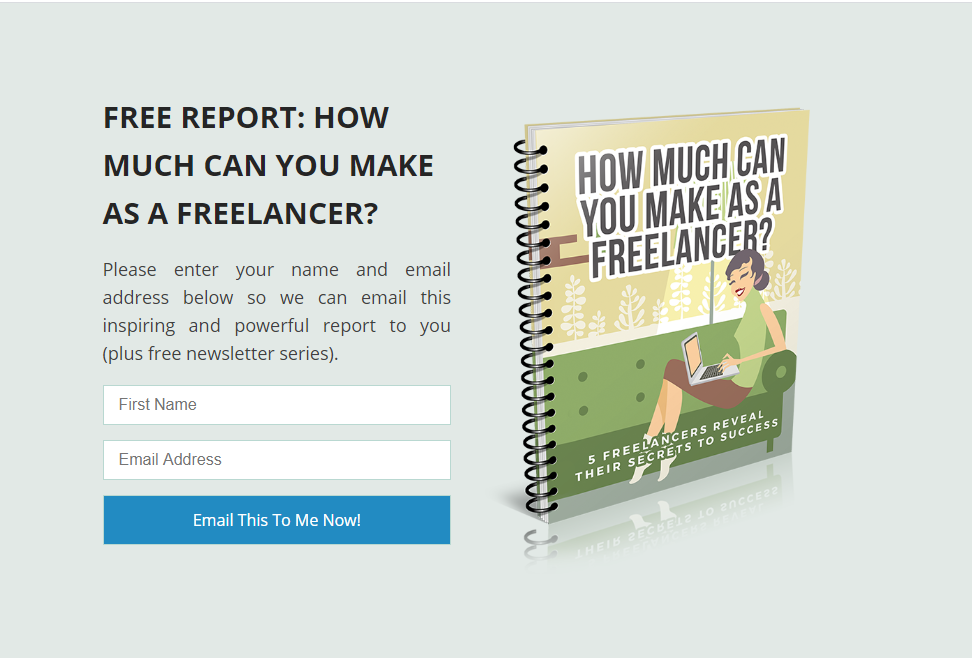 Fiverr is a trusted partner. Check them out today.
Start an online business in any niche? Start for free.
I hope you find this freelance marketplace list useful. If you have any questions or comments, please put it below.