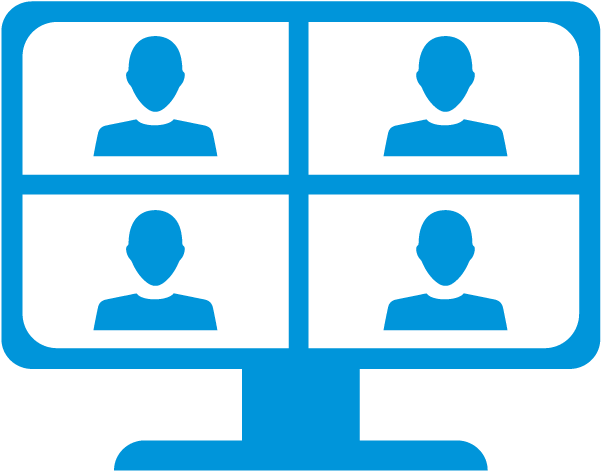 What is the best video conferencing software on the market today? Due to the coronavirus pandemic, people are forced to lock themselves in their houses. The virus is spreading like a wildfire through human contact. So, it is inevitable to go through self-quarantine at home and practice social distance.
However, this raises many problems. Many businesses are halted as the workers can no longer come to the office and work. People are not able to hang out with their loved ones.
Thankfully, we live in the digital era. Even if we cannot physically be with people, we can always connect through the internet, provided we have internet access and a compatible device. Since you are reading this article, I am going to assume that you have both. So, let us dive into the top 5 video conferencing software you can use to stay connected to your business and closed ones in these tough times.
1. Zoom meeting
This is by far the most famous video conferencing software today and for good reasons. It has both free and paid tiers depending on your needs. However, the zoom meeting gives more features compared to other software in the free version itself.
There are options for one-on-one face timing and group conferencing up to 100 people in the free version itself. The only restriction is that there is a 40-minute time limit if a conference has 3 or more people. Zoom is particularly good for businesses because it gives great power to the administrator to control the meeting.
Pros:
There is a recording feature for you to document your session.
Whiteboard feature to have brainstorming sessions.
Easy screen-share option.
Good customer service and support.
Access to meeting analytics
Great scheduling options.
It is available for iOS, Android, Mac, Windows, and Linux.
Breakout sessions are possible.
Cons:
Some users think that many features are not easy to use.
Many times the video and audio quality gets poor.
2. Skype
Skype is a video calling software that is used across the world from normal households to big businesses. Microsoft's skype offers both free and paid versions. It is easy to connect with others through their mail ids.
While there is a restriction on video conferencing up to 50 participants in the free version, you can extend it to 250 participants by getting a paid upgrade. Skype is one of the trusted video conferencing platforms available.
Pros:
Screen-share option.
Supports large files or document sharing.
Whiteboard feature.
Easy to integrate with other tools.
Easy to find contact and start chatting.
User-friendly
Cons:
No option for breakout sessions.
Video tends to freeze sometimes.
No webinar features.
3. GoToMeeting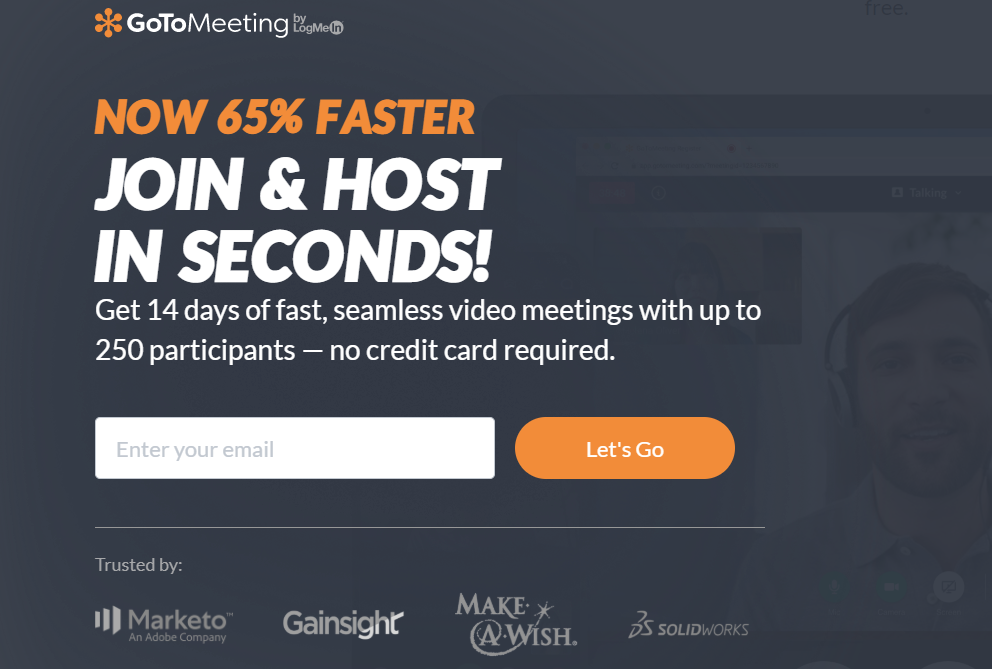 GoToMeeting is another favorite video conferencing tool among businesses. It offers three paid tiers: basic plan, a business plan, and an enterprise plan. The basic plan allows 150 participants while business and enterprise plan allows 250 and 3000 participants respectively. Many of the key features are available at basic plans and only a few more features are available for higher tiers.
The biggest advantage of GoToMeeting is that it is mobile-friendly. You can schedule and attend a meeting on your mobile device itself. Not many of the competitors in this market provide this feature. It has an app for both android and iOS with high ratings.
Pros:
Mobile friendly
14 days of free unlimited video conferencing/meetings
Meeting scheduler integrated with google calendar
Virtual whiteboards
Video recording feature
Drawing tools
Meetings can be secured with passwords
Cons:
Paid service (no free tier)
Business and enterprise plan costlier than the competitors
You have to pre-set the audio source or it gets messy when you are in the meeting.
4. CyberLink U Meeting
CyberLink U Meeting is a web-based video conferencing tool that does not require you to download any software. It has four packages with the basic one free. 25 participants can meet using the basic tier. You get 30 minutes per meeting.
The next tiers are Pro 50 and Pro 100 which allows 50 and 100 participants each. There are more admin tools in these packages and each meeting can go up to 24 hours. The final tier is 'Enterprise features' which adds more features. The users need to contact sales for getting a quote for this.
Pros:
Web-based; no software needs to be downloaded
Has a free tier
'PerfectCam' feature
Easy to use
Best for small businesses
Cons:
No video recording feature
No VoIP system to dial into meetings
5. Cisco Webex Meetings
Cisco Webex Meetings offers one of the best free plans. It allows up to 100 participants and provides features like private chat rooms and screen sharing. The free plan itself is sufficient for many small businesses.
A personal URL is provided once you sign up. You can use it to schedule meetings, access recordings and manage all your meetings. You can choose between the website or the app for your meetings. While the website offers all the features provided by the app, the experience in the app is said to be smoother.
Pros:
Includes 1GB cloud storage
No limit on the length of the meeting
Screen sharing
Good security
Both app and web version available
Whiteboard feature
Cons:
It doesn't integrate well with non-Microsoft accounts.
Price is on the higher end.
These are the top 5 video conferencing tools in no particular order. The best choice for you will depend on your specific needs.
Hope this list helped. Happy Conferencing!