The cost of making a website varies and it is dependent on the type of website you need. A website can cost you zero dollars to setup and all that is needed is an email address and your time. However, there are a lot of downsides to a free website and I will outline them below.
To get you set up correctly our discussion will cover "what is the cost of making a website" in todays economy.
Our first order of business is to figure out what kind of website you need. Do you need a simple blog site or a full-scale professional website?
This would mean a business website, ecommerce website, religious website and so on. You would also have to consider consider content, images and hosting for your website.
With that in mind, lets look at exactly what you would need to get started today.
A domain $5 – $12: Your domain is your website address. This will be something like xyz.com for example.
Website hosting $3.75 – $15: This is where your website is going to be living.
Content $10 – $70: You can write the content yourself or have someone do it for you.
Images $0 -$20: You would need images to convey your message through images.
Website security $0 -$150: You will need this to keep trouble makers out of your website
The Domain for Your Website
As I've mentioned above, your domain will be your website or home address. This is going to used to find your website. The name should be unique and short if possible. You should also try to get a .com because it's the most popular. If you cannot find a dot come, then go for a .net or .org.
There are many tld's so don't stress too much over it. Your domain should cost you no more than $12 plus. If you get it from namecheap, the price should be around $9-$12 for a .com domain.
Website Hosting for Your Website
To host your site you will need hosting. I recommend you check out Bluehost. Their hosting starts at around $3.95 and it is stable 99% uptime and user-friendly. Bluehost also has developed a good reputation and good customer service.
Content for Your New Website
When it comes to content, you have to make sure it is professional and well written. If you plan to write all the content yourself, then use a tool like Grammarly to help with grammatical errors, sentence structures and so on. As you write, it will make suggestions and correct errors.
However, if you rather someone else write for you like, a freelancer hires him or her over at Upwork or Fiverr. These two platforms are well equipped to provide high-quality writers for your site. You could also use iwriter.
In my experience, content writers charge from $10 an hour to $120 per article. This is on the higher end of the spectrum. Some will charge much less and you could negotiate price with most writers.
Images for Your Website
You should only think about images if you are going to provide all the images for your site. In most cases, the designer will have access to royalty-free images or have access to high-quality stock images from sites like Adobe Stock, Getty images.
Pricing ranging from $27.99 a month to $199.99 on Adobe stock photos and Getty a bit higher ranging from $179 per download all the way up to $499.99. On the lower end, sites like Pixabay, Pexels, and many others offer great images at a lower cost, free or with credit.
Website Security for Your Site
In today's online environment, it critical to have website security to protect your website from unscrupulous intruders and hackers. To protect your website a developer or your website hosting company would install site security. Most sites today are protected and you would know this by the [https:] S meaning "SECURE" at the end of the p on your URL which means "Uniform Resource Locator". The URL would appear like this….https://xyc.com.
To have this on your site you would install an SSL certificate from Namecheap and also your domain at a reasonable price.
Namecheap SSL Certificate Price List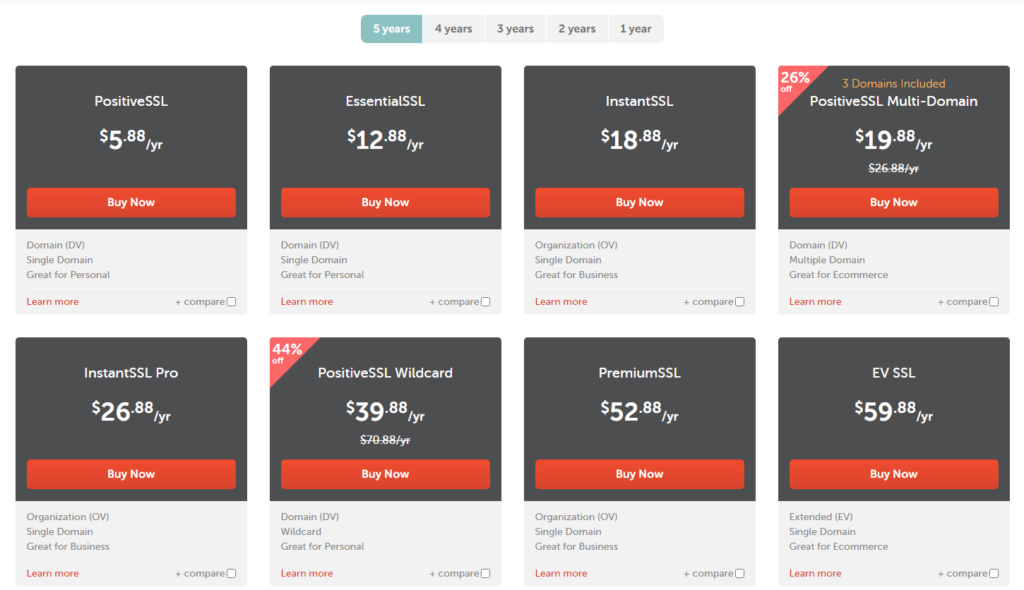 Other companies like Hostgator, Bluehost also offer SSL Certificate as well.
Now that you have an idea of what it might cost and what is required let's look at the type of sites that are possible and the platform you would need to make your website.
The easiest platform to create your site would be WordPress. WordPress is free and most hosting companies have this software in their cpanel by default. The process to install a WordPress website is easy and straight forward. Although its simple no everyone can do it because they are not familiar with Cpanel or control panels.
To get past these obstacles, a developer will do all this for a small fee. This website is run on WordPress and if you need any help installing your website, feel free to contact me. I do charge a small fee and not the $300+that Hostgator is charging.
What are Some Type of Websites You Can Make on WordPress?
You can make pretty much any type of website on WordPress. You could build a personal blog, an eCommerce website, a restaurant website, a local business website, work from the home website, a charity website, a church website, landing pages, sales letter style of website, and much more. The possibilities are endless.
The complexity of the site will ultimately determine the platform. If you want something custom, where everything is done from scratch, then cost will run high.
From scratch would mean all the code would be written by the developer from your specifications. These type of website could run you in thousands of dollars and take months to complete. If you are just starting out, I recommend WordPress.
It's easy, simple, and requires little to no coding. You simply pick a theme, customize it to your liking, upload a logo, and upload your content. That's the whole process.
So Where Do We Stand on What is the Cost of Making a Website?
| Companies | Type of Site/Item | Domain Cost | Hosting Cost | SSL Certificate | Est: Total Cost |
| --- | --- | --- | --- | --- | --- |
| Name Cheap | Blogsite/Wordpress | $8.88 – $12.99+yr | Starting @ $2.68monthly | $5.88 year | $22 |
| BlueHost | Blogsite/Wordpress | $12.99 -14.99+yr | Starting @ $3.95 monthly | Free | $16.94 |
| Hostgator | WordPress | $12.95-14.99+yr | Starting @ $2.75 monthly | $19.99 yr | $38 |
| Adobe Stock | Images | N/A | $27.99 month | N/A | $27.99 |
| Gettey Images | Images | N/A | $179.99 download | N/A | $179.99 |
| Fiverr | Content/Logos | N/A | N/A | N/A | $150.00 |
*Chart does represent actual cost but an estimate based on the authors calculation without appropriate taxes
The company that cost the lest to make your website is Bluehost with Name Cheap in second place and third place Hostgator. Your content will cost a bit as well as the stock images. Remember these will be high-quality stock images that you will be free to use because you have bought the right to use them.
The free images are also great and they are perfectly ok to use them from Pixabay. If you're going to use a developer to get all this done for you, budget around $2,000 plus bucks or more. You would only do this if you have no clue about creating a website from scratch.
One more thing, don't let the cost make you not get your website started. Remember these are just estimates and there are many options to choose from. The goal is to build your website for your business or pleasure. I have located and list the best choice for website hosting, domain, and SSL certificate, Bluehost, as well as second, Namecheap, and the third pick Hostgator.
The most important thing you can do is plan ahead and have a clear purpose for your website. The cost of the site will change over time and the more prepared you are the better your website building experience will be.
To recap lets look at what you will need to build your site today.
SSL Certificate – free with Bluehost
Content – Fiverr, Upwork or iwriter
Must have pages – Privacy policy, Terms & Conditions, About, Contact, Disclosure
WordPress Plug – JWIncert, This plugin has a build-in legal page generator.
Namecheap is great as well. Their prices are just as comparable and I have and still used them to this day.
Your estimated cost to build your website with home page, legal pages, about page, contact page, hosting +domain, (free images), two to three 500-700+word content, blog page, should cost you around $500-1500+. This is if hire a developer/freelancer. I could cost significantly less if some of the work like content is done by you.
You can cut the cost way down by starting the site and slowly build on it. This could be done by buying domain & hosting. You would then install WordPress, install the jwincert plugin, add your about page, contact page, add free images from Pixibay and just add one post.
Your site will not be index for a few weeks so you would have some time to get your content together. However, if your website will be a bit more complicated with custom features or an eCommerce website then it will be what's stated.
Ready to make your website a dream come true? Click here to get the process started with Bluehost.
If you need help with any of these, feel free to contact me for assistance. You can send me an email to contactmike[at]gmail.com. I will be more than happy to help you out.
How did I respond to your question? I would love to read your feedback. Please leave a comment below and I will be more than happy to reply.
If you have a specific type of site, post it in the comments section below so I can better respond.