A freight broker or freight agent could be your next breakthrough work from home gig. In today's ever-changing job dynamics, the traditional working environment is no longer normal and with the jobless rate hitting alarming numbers working from home is more a viable option than ever before.
In today's post, we are going to look at working from home as a Freight Agent or a Freight Broker.  You probably never thought about this before but this flexible profession has a lot to offer and huge weekly, yearly income potential if you have the skills, determination, and will for success.
Before choosing a topic, we took a few measures to see if this could actually work for someone looking to do this from home. Our research had us looking at interests, trends as a Freight Broker or Friend Agent. This article is a result of our research.
Traffic, Trends, and Intrest As a Freight Agent
Before getting into everything else, we wanted to let you see interest in this industry. Our research took us to Google and what we found is remarkable. We not only came away with strong evidence of a need and interest. We also found a 12 months worth of continued evidence that this is a viable route for those looking to become a Freight Brooker or Freight Agent.
What you are looking at is a trend report taken from Google.com. What this report shows is the interest worldwide for freight agent. This report also includes the countries actively using this search phrase. You will find the countries further down this article.
The intent is steady over 12 months. There is very little fluctuation or major dips in interest and it shows a strong consistency for Freight Agents. The next image below is that for Freight Broker.
Traffic, Trends, and Intrest As a Freight Broker
As you will notice, the trend is similar for Freight Agent. Many persons are actively searching for jobs or employers seeking interested individuals to work with them. View the trend report below.
A similar result can be seen and we have a strong interest in the Freight Broker workforce worldwide. We also have the top countries with the highest interest.
The top countries are the USA, Canada, Vietnam, Philipines, Australia, United Kingdom, Malaysia, Taiwan, Indonesia, Mexico, Columbia, India, Russia, Brazil, Spain, and France.
What Does a Freight Agent or Freight Broker Do?
"A freight broker, in freight transport (cargo), overland in the United States by truck[1] is often used as part of the logistics. This may be part of an overall shipbroking using a cargo broker, a freight forwarder, a third-party logistics broker (3PL), and even a fourth-party broker,[2] when outsourcing is needed (as opposed to in-house) for freight transportation. The brokering can be single mode or by multimodal transportation and can use specialized brokers on a permanent basis or as needed to ensure timely traffic management.
A load may be posted on a truckload board[3] by shippers, brokers, or agents.[4] This may occur with special orders, brokers and/or agents that do not have an established logistics base, or brokers and agents seeking a backhaul for a truck not in a high-traffic lane. Many brokers specialize in certain freight such as full truckload (FTL) or less than truckload, auto, boat or yacht, bulk tanker (liquid or dry goods), oversize, equipment hauling on lowboys, flatbed, drop deck, or any other mode of freight transportation with enough loads".
Wikipedia's Definition
Potential Freight Broker or Agent Partners
While this might be new to you, you'll find plenty of partners willing to work with you. A search on Zirequiter and indeed resulted in many offerings. We were very surprised by the share number of opportunities. Please view the images below.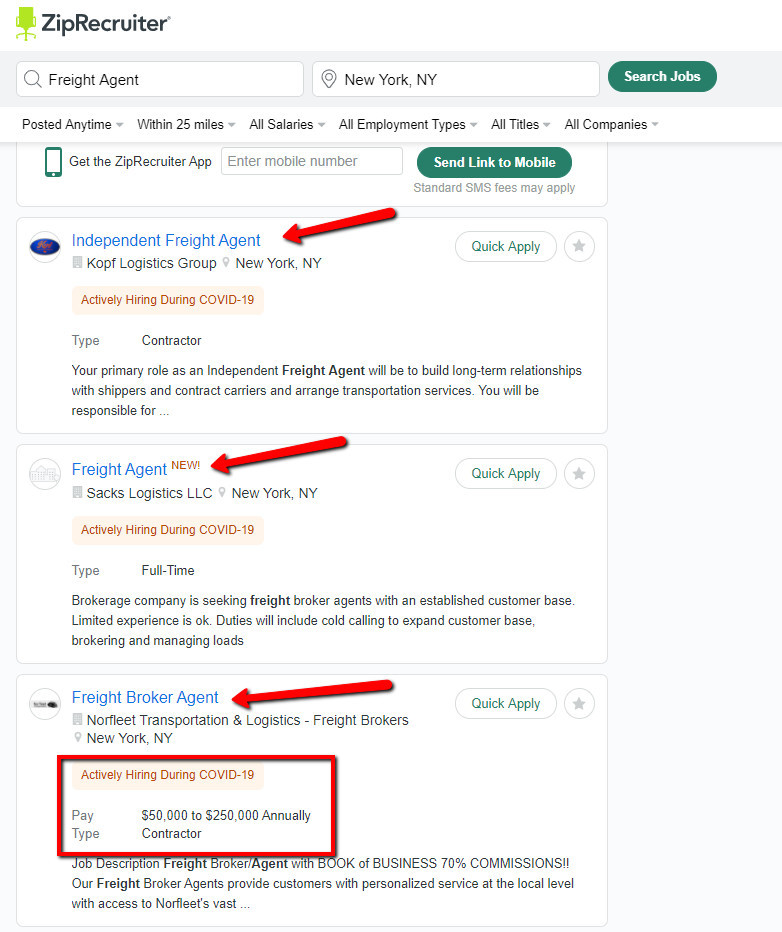 As you can see, there are positions available throughout the New York area at the time of writing this. These listings will change and depending on the season of the year or where you are your results will be different.
It's looking more lucrative than thought. Do you believe this could be a viable path to a work from home job? It's looking that way but we want you to continue because we have a lot more in store for you.
Are There Competitors or Job Offers in The Market?
There are and for good reason. It might not look that way but after looking through numerous search results I can see strong presents for this job. When it comes to competitors or competition, it's not significant. There is enough for everyone.
Do a lot of people know about this? It doesn't look that way and there seem to be plenty of opportunities.
To extend our search for employers or people will wing to work with you I've included the Indeed search result for "Freight Broker Agents below.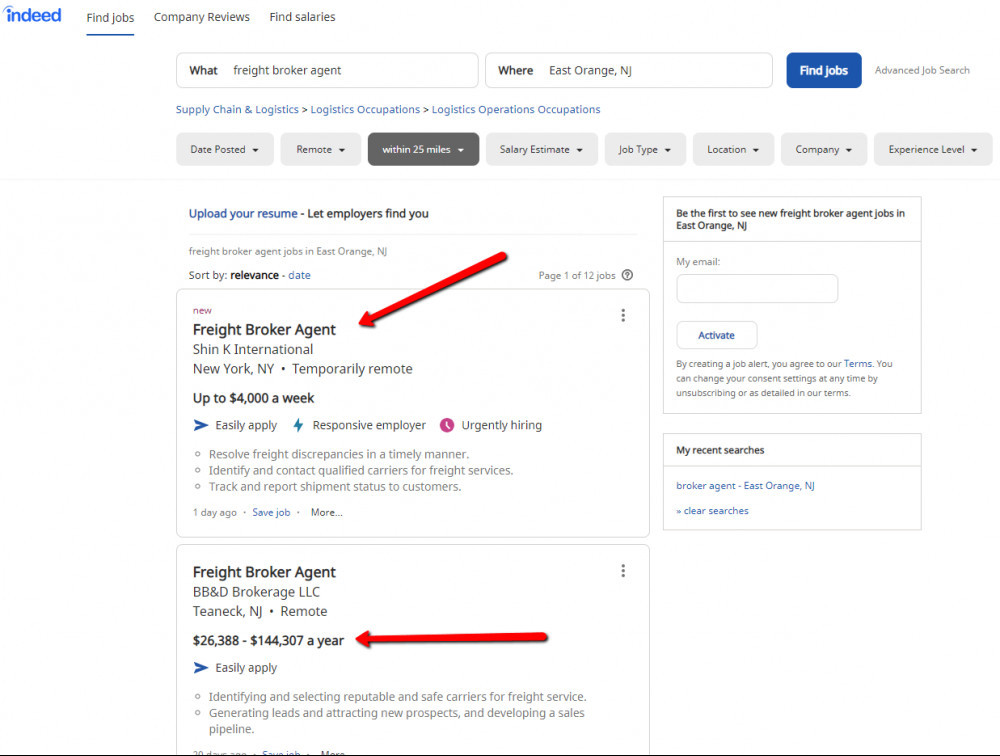 Social Media Presents
You'll be happy to know that people are talking about Freight Brokering. Youtube has a ton of videos and Facebook offers a plethora of groups on the subject.
News Outlets on and offline
If you're living in the Sand Diago, CA area check out this job offer. There are actively looking for Freight Broker Agents with or without experience. Contact Andres for more information and specific job details.
Office #: (800)721- 6882 EXT: 807
Ask for Andres Chavez
Job Types: Full-time, Part-time, Commission
Pay: $4,794.00 per week
Benefits:
Job Board (Indeed, Monster, ZipRecruiter, etc, Craigslist
This was mentioned earlier at the top of the article. If you want to be involved in this field, we suggest starting off as an agent so you can learn the ropes before becoming a broker.
It's almost like the Real Estate industry. You find that many of the brokers were former agents. They got in and learn how things are done before starting their own real estate office.
For this reason, we recommend going the agent route. If you already have some experience and you want to jump into the Freight Broker seat, go for it. Xyz product offers some insightful information that you might not find online or even from your current boss. Go and check it out when you have some time.
Estimated Cost to Establish Your Freight Agent Business
The cost here can vary and it all depends on how fast you grasp the information. However, becoming a broker will cost a few benjamins. For starters, there is a non-refundable $300 fee at the time of writing this article.
You would need to fill out an online form and pick up a license over FMCSA and pay the $300 non-refundable fee. This agency manages and enforces the rules associated with Freight Brokering.
A Freight Broker business license cost around $70 in most states and all license brokers must have at least $75,000 in bond in place. You won't be required to plunk down that kind of money. You would only need around 1% – 12% of that around which is about $750-$9000 dollars.
Online Worthiness of This Work from Home Business
Is this a suitable venture online? It is because you can have a website to get your leads and solicit info from interested companies looking for a highly skilled Freight Broker or Agent. You might think building a website is difficult but it's relatively easy when you know what you are doing.
You don't even have to do it yourself. Fiverr have you covered.
What Would You Need to Start Your Freight Broker Business
For starters, you would need knowledge. You would also need a license, insurance, companies to work with. Security Bonds put it like this. 1. Gain industry experience and study. 2. Choose a company name and register your business. 3. Develop a business plan. 4. Find the right carriers. 4. Apply for a USDOT number and get your broker authority. 5. Get a $75k freight brokerage bond (BMC 84). 6. Obtain contingent cargo insurance and general liability. 7. Designate agents for service and process. 8. Get your equipment. 9. Get enough initial operational capital. 10. Market your business.
Your Course of Action
If this is something you want to do, learn as much as you possibly can. Start now. Freight Broker Profits offers an online training course for beginners. There are also videos on youtube of people who have made it or love to teach others what they know. Either way, you get the best of both worlds.
You might be planning or will be staying at home for an extended period of time a Freight Broker or Freight Agent career could be a welcome new and exciting path. Don't limit yourself, take the plunge.
Website or No Website
You might or might not need a website. It depends on how professional you want to come across as in the industry. In the beginning, it is probably not needed but you could also start a free blog on your journey.
This could be used to document your progress and share it with your family or friends. You could also keep it private and only share when you make it big. LOL. Nevertheless, the goal is to show that you have some online experience and a place to showcase who you are and what you can do.
Potential Freight Broker Domain Name ideas
Coming up with a name for your broker business can be daunting. what name will you go by and so on? The best thing to do is try to keep the domain name you pick as short and sweet as possible. The idea is to make it easy to remember and memorable.
One place to look Namesh. This website offers ideas on how to pick a name for your business but keep in mind what your end goal is. You want it to be short, memorable and roles off the tongue with ease.
I've gone ahead and picked a few freight brokers and freight agent's domain names that look good. Another name to use is your own. Hop over to Namecheap and type in your name. You could use yournamelogistics.com or yournamefreightagent.com.
It may be hard to find one but keep trying. Here is my list of freight agent domain name choices.
247freightbroker.net, crosstownbroker.com, freightagent.network. freightagent.xyz, freightagent.agency.
Website Hosting & Security
When dealing with a website, you're going to need a place to host your Website. This is a place where your website will live and all the files stored. Your website should have reliable hosting with an uptime of 99% or better.
Your website hosting provider should also offer website security. This will ensure your website is safe and secure. Today you can get hosting and security for your website at a fair price. Frankly, it's not expensive. You can spend anywhere from $2.00 dollars a month to $15.00+ dollars a month.
Bluehost is a leading provider of affordable website hosting. Check them out at any time. I want to also mention that Wealthy Affiliate is for entrepreneurs. It was built for people who want to build an online business from scratch, earn extra income, retired professionals, the ideas swirling around in their brains or dreams they have of building a business on the internet.
Do it Yourself or Hire a Professional
Now that you know about getting your business domain, hosting for your website, your next thought is probably how will I get the website build. As I've mentioned in the title of this section, "do it yourself or hire a professional".
If you have no idea how to build a website, I would say hire someone to do it for you. It's not that difficult especially on a simple website. In your case, the Freight Broker or Freight Agent space shouldn't cost that much. You won't be selling anything physical except your expertise and what you know.
Difficulty Ratings
We give this a difficulty rating of 6 out of 10. Why 6? We believe the person who gets in this industry have to be motivated and want to succeed. It's also an independent contractor or a self-owned operated operation.
Your salary is strictly based on your overall performance. Remember,  you can always refer to the training in "The Brooker Boot Camp" for Dennis Brown's personal insight as a successful Broker in this industry.
Opportunity Rating index
With so many offers for high earnings and job offers our overall opportunity index is positive. There were many ads on Youtube, Indeed, Zip Recruiter. We also checked Monster to see what's out there for you. What we found is more of the same and that is many job offers for Freight Brokers across the United States.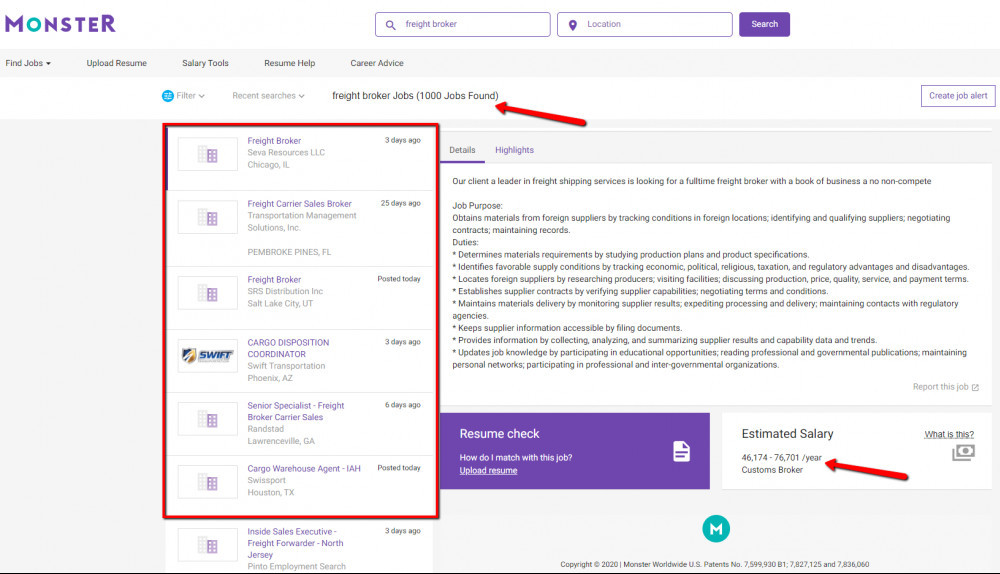 Overall Potential and Outlook
Whichever path you decide to take be a Freight Broker or a Freight Agent, either one has enormous earning potential. The only thing that will stop you is you.
The best advice we have for you is to get trained the right way and applied by all the rules in the industry. There are many short cuts to everything some good and most will be bad. Don't take shortcuts and remember to be honest and extend professionalism to all your clients and employees.
Available Training, Guides & Tutorials
We've located a training program that offers training on Freight Broker or Freight Agent. Individuals interested in becoming one or the other will gain the skills needed to further their knowledge and potential income in this independent profession.
This is offering first-person training. Learn to become a Freight Broker Or Freight Agent In 30 days Or less. Learn from A feal Freight Broker who started with no experience and has done over $200 million in sales.
View Dennis Freight Broker Profits training here.
Final Analysis or Conclusion
Becoming a Broker is quickly becoming a go-to work from home business. It's profitable and it's very flexible. For those who want to become agents, your future is even brighter. You will gain many skills to one day open your own Freight Brokerage logistic business.
If you are a self-starter and enjoy working independently, give this a shot. The income potential is limitless and as a self or independent contractor, you'll be entitled to tax write-off for your home office, supplies, travel expense, and even an automobile.
The goal for you now is to get started. Check out Freight Broker Boot Camp for details on how to launch your very own Freight Broker or Freight Agent home business.
What are your thoughts about this article? If you have any experience or insight, feel free to comment below.