With everything going online, there is a high demand for content and online marketing. Social media is the center of this online marketing. Social media requires you to periodically upload content and keep engaging in the platform. This can get very tiring and stressful.
Content Burger is a software that aims to make this easy for you. So, let review it and see if it delivers what it promises.
What is Content Burger?
Content Burger is a social media management and content creation platform that can be used to create content and post it without hassle. It can be used by anyone to create content, boost their online engagement, leads, and deals.
Online content is the best way to connect with customers, irrespective of the business that you run. Content Burger provides all the tools that you need to make it easy for you. You can create content effortlessly using their templates and build your online community to increase your sales and profit.
How does it work?
Using Content Burger is quite simple.
Step 1: Decide what your content is about
Once you pick a topic, you can use their intuitive dashboard and composer to run a search on that topic. Using the sources you find, you can create a post of your own.
Step 2: Choose where you want to post the content
You can post the content you created directly to your social media platforms and blog channels. Once you have created a particular content, you can choose where to post them.
Step 3: Optimize content for different platforms
Optimization is key for all the online platforms. Content Burger offers options to optimize your posts for each of the platforms you want to publish your content in.
Step 4: Publish or schedule the content
You can either choose to hit publish or schedule your posts for later publication. The scheduling option allows you to batch produce content so that you don't have to get to it again and again.
Related Post: Sqribble Review
Features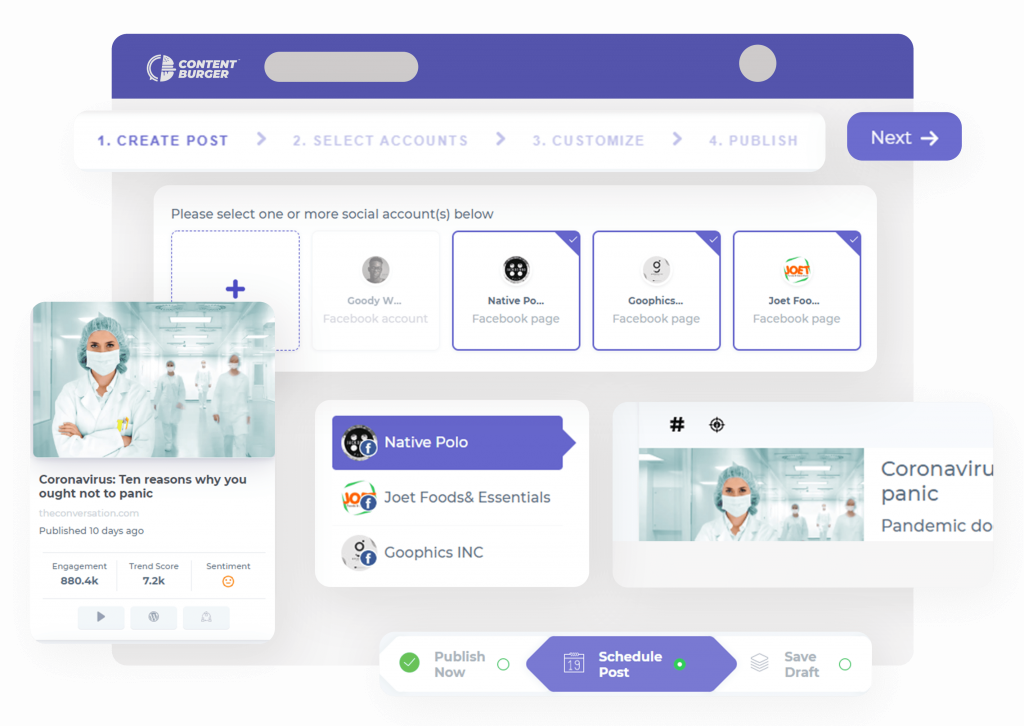 Brace yourself now as it is going to be a big list.
1. Easy Content Discovery
It is not easy to come up with 100% original content for everything, every time. You need to do research and draw inspiration for the majority of the content. Content Burger makes it easy for you to browse through a ton of sources to create your content. You can also embed these sources in your content.
2. Great content composer
You have three different types of content composers within Content Burger- Social post composer, blog post composer, and Image designer. You can use these composers to create content suitable and formatted for different platforms very quickly.
3. A.I. Generated captions for your posts
If you don't want to create content by yourself, you can always take the help of A.I available in Content Burger. It can create relevant captions for your social media posts based on interesting articles it finds online. The captions sound human and compelling.
4. Find out about trending topics immediately
Social media as a trend culture. The more content you create on what is trending, the more popular you can get on the platform. Content Burger gives you information and insights on topics that are trending so that you can benefit from it.
5. Follow different sources and create RSS Feeds
They have a global library with a lot of sources that you can use. Other than that you can also import content from different sources and even monitor content from different sources that you like.
6. Planner to execute your content strategy with ease
Use the interactive calendar available in Content Burger to plan your content marketing strategy and to keep track of it. You longer have to keep spreadsheets and other platforms to keep track of your social media performances. You can have it all under one roof with Content Burger.
7. You can automate content sharing in seconds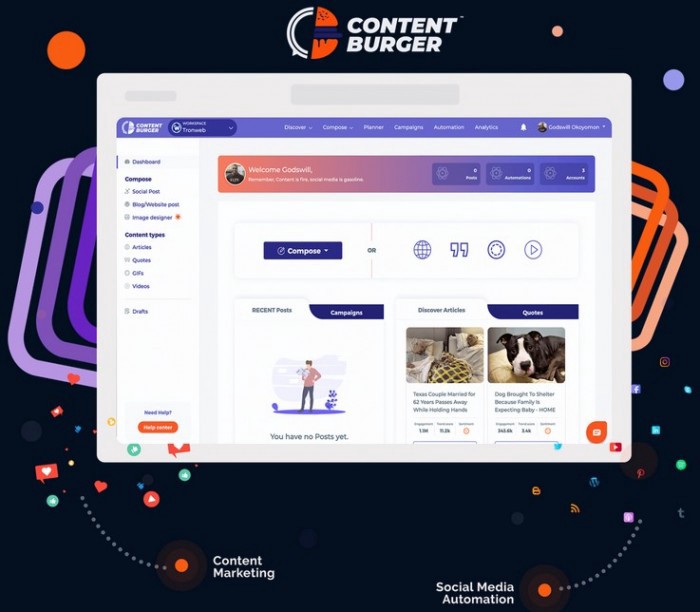 Do you want to create a blog out of an article? Want to put up a video in a blog, Articles to social media, or videos to social media? You can automate this with Content Burger and save time.
8. Automatic citation options
Plagiarism is not tolerated in the online content world. Therefore, citing the source you took information from is absolutely necessary. With Content Burger, you can automate citation and can pass the test of google guidelines without you having to put in more effort.
9. Amazing scheduling option for Social Media content
Social media needs more frequent content uploads than blogs. Using Content Burger, you can not only mass produce your Social Media content but can also schedule it, reschedule and bulk upload. There are no restrictions on how many posts you can schedule in one go.
You don't even have to custom schedule everything. Set a frequency or post-interval and you can automate the scheduling process as well.
10. Sync content across various platforms
You can easily syndicate content across different platforms using Content Burger. This allows you to post content across different platforms without having to worry about scheduling everything separately.
11. Create unique content by re-purposing your old content
Attention and memory are very short for your audience on social media. So, repurposing content is a great way to put up content on your social media. With the plethora of tools available in Content Burger, you can easily repurpose your old content and make it look unique and interesting.
12. Use their analytics to figure what is working for you
You cannot win the social media game by simply throwing in random content. You have to keep track of what kind of content your audience likes to see and what they don't. Then you have to put up more of the content they like and none of the content they don't keep your audience engaged. To know what your audience likes and dislikes you need to have a strong analytics tool and Content Burger has it.
13. Integrated with WordPress, Medium, and Tumblr
This integration allows you to create posts and post it directly to your WordPress sites and any publications done through Medium and even to Tumblr.
14. Track your conversion
In the end, we are putting all these efforts into content and social media marketing to make money out of it. Sometimes we tend to lose sight of what we are doing it for. That is why it is essential to track conversions. With the powerful tracking tool available in Content Burger, you can regularly keep track of your conversions.
15. Find everything you need for graphic content
Using Content Burger, you can find media files like pictures, gifs, quotes, memes, etc. for your graphic content very easily.
16. Supports multiple languages and regions
Creating content is not restricted to English only in Content Burger. It supports various languages and you can use it across various countries around the globe.
17. Collaborate with your team
With Content Burger, you can collaborate with your team smoothly in real-time. You can view their activity and manage the workflow comfortably on Content Burger. You can also restrict user access to your social profiles here itself.
18. Solution for agency
Do you run a content or social media agency? Content Burger is perfect for you. You can easily get share your content with clients and get it approved. The analytics and other tools will help you keep track of the performance and produce and share reports without putting too much work into it.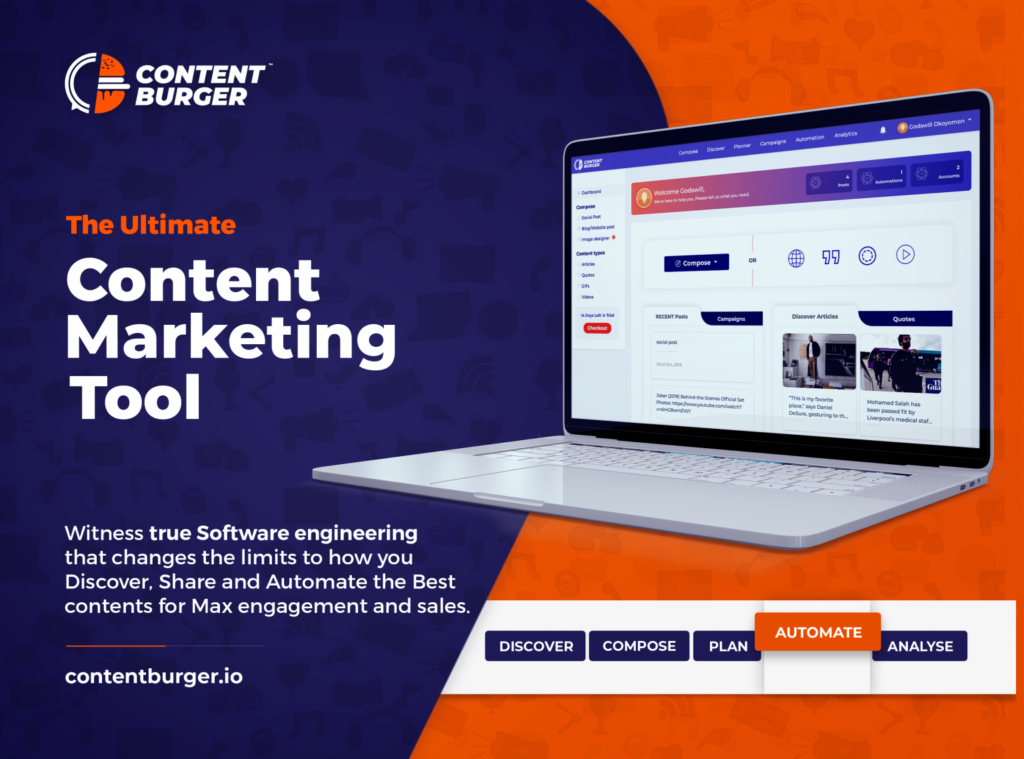 Who is it for?
Anyone who has anything to do with Social media marketing or content marketing can benefit from using Content Burger. That said, there is some professional that should be using this:
Start-ups and business owners.
Agencies
Brands
Publishers
Freelancers
How much does it cost?
For the features it packs, Content Burger is available at a very affordable price. You get it at a one-time price of $67.
In addition to the product itself, you will get three bonuses:
#1 Content Burger Commercial license that allows you to use it for commercial purposes.
#2 Training on how to turn Content Burger into a 7-figure income source working from home.
#3 Social Media Planner- 365 days calendar
Pros and Cons
Pros:
Easy to use and saves you a lot of time.
Helps you organize, schedule and batch produce content.
Syndicate to social media sites in a few clicks.
Easy to track engagement and conversions.
Easy drag and drop features.
It can use it for creating content in different languages and regions.
Different content composers to create content fast.
Easy to use for newbies too.
Cons:
There are no cons that I know of.
That's all for the review of Content Burger. I hope you found it useful.